Ingredients
Olive Oil cooking spray
12 very thin sliced white bread (crusts trimmed off)
2 tbsp butter
1 tbsp olive oil
2 large onions, very thinly sliced
1 bay leaf
2 tsp ground thyme or poultry seasoning
salt and pepper
1 lb shredded mozzarella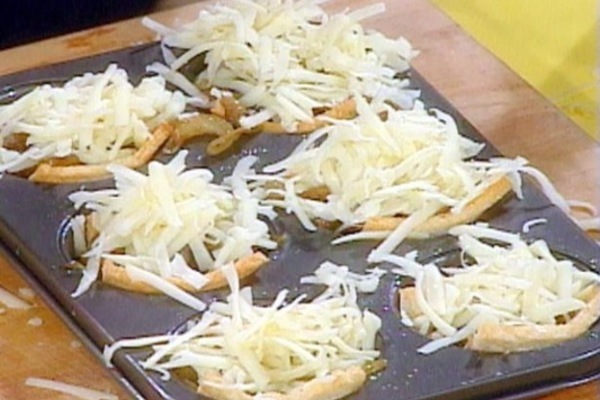 1. Heat oven to 350. Spray both sides of bread and press into muffin tin. Place in oven and toast until golden, 7 or 8 mins. Remove and reserve.
In a skillet melt butter into oil. Add onions, bay leaf and season with thyme, salt and pepper. Cook onions until caramel coloured, 15 to 18 mins.
Turn broiler on. Place spoonfuls of cooked onions in toasted bread cups. Discard bay leaf. Cover onions with cheese and set tarts under hot broiler to bubble and brown cheese. Serve hot. Yummy!
side dishes June 15, 2017 23:35
Share the recipe with your friends
No one has liked this recipe.
0 comments