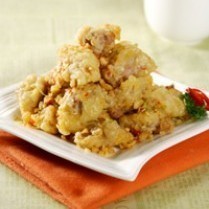 200 gr chicken fillet
2 tablespoon seasoned flour (tepung bumbu)
For the sauce
1 small brown onion (bawang bombay)
3 tablespoon butter (melted)
1/4 teaspoon white pepper
1/4 teaspoon salt
1/4 teaspoon Oyster sauce (kecap ikan)
1 teaspoon Rajarasa sauce
Prep. Time → 15 min
Cook Time → 12 min
1. First, you need to fry the chicken. Cover the chicken fillet with the flour, no need any eggs because the chicken has already wet. Just make sure the surface are well-covered with the flour. You can get instant seasoned flour on any grocer's or market near you, it's quite common to be used when you cook crispy fried chicken.
2. Pre-heat the frying pan (I used to use a wok to fry everything, try to use something with depth so you can do half deep-frying. It's better if you have some special deep-frying pan though), pour some cooking oil. Wait until it's hot enough to fry the chicken, it has to be quite hot so the flour won't drop on your frying pan while you're stirring the chicken.
3. Fry until it's golden brown. When you're done, put it on a paper towel or any oil filter so the oil will drop and you won't eat fried chicken with oil sauce. Cool it for a little while.
4. Now, prepare a smaller pan and melt the butter until it looks like oil (or simply pure liquid). While you're waiting for the butter to melt, quickly chop the brown onion and put them into the pan.
5. Stir the onion, put some salt and pepper, stir again. Pour the two sauce and stir well. Just until the onion cooked (or floppy), but not overcooked. Do this step in a medium heat.
6. Last, put the chicken you've cooked before on a plate and pour the butter sauce on top of it. You can have it with a hot rice or potato wedges. Served while it's hot.
7. Instead of chicken, you can use shrimps or squids as substitution. I never use beef for this recipe but it doesn't mean you can't try it.
main courses, butter, chicken, main course, main dish, shrimps, squid February 28, 2013 02:43
Share the recipe with your friends
No one has liked this recipe.
1 comment