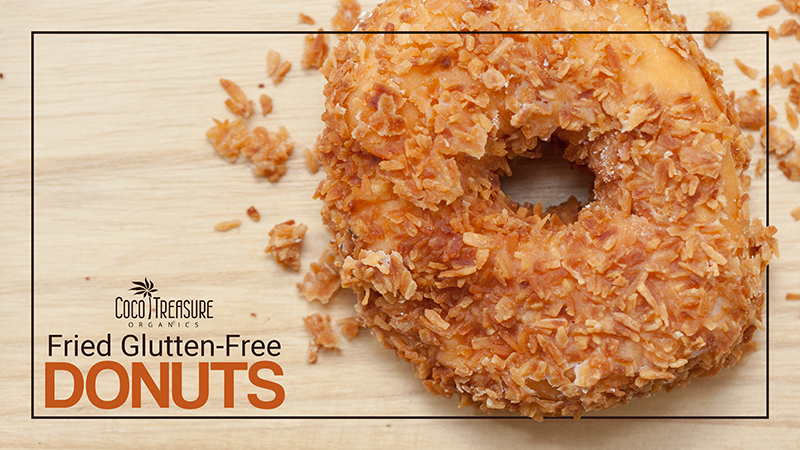 Ingredients
for 10 donuts
For the Doughnuts
¼ teaspoon salt
¼ teaspoon Coco Treasure Organics Coconut Sugar
¼ cup erythritol
¼ cup Coco Treasure Organics Extra Virgin Coconut Oil melted
½ cup Coco Treasure Organics Coconut Flour
½ cup unsweetened almond milk
½ cup vanilla
1 teaspoon baking powder
4 pcs. large eggs
Coco Treasure Organics Extra Virgin Coconut Oil for frying
For the Coating
½ cup powdered erythritol
½ cup unsweetened coconut flakes toasted lightly
Prep. Time → 10 min
Cook Time → 20 min
1. Preheat the oven to 325 degrees Fahrenheit.
2. Grease a donut pan evenly.
3. In a large mixing bowl, whisk the erythritol, coconut flour, salt, and baking powder.
4. Add the eggs, almond milk, coconut oil, coconut sugar, and vanilla until smooth.
5. Fill the donut pan with the batter. About 2/3 of the hole should be fine as it will rise.
6. Bake until the edges become brown. Let it cool for about 5 minutes before transferring onto a cooling rack.
7. Fill a large skillet with frying oil. Set to medium heat.
8. While the oil is heating, combine the powdered erythritol and coconut flakes in a medium-sized bowl.
9. Fry the donuts in the skillet. Flip after two minutes to cook the other side.
10. Dip the donuts in the coconut coating.
11. Allow to cool before serving.
12. Recipe Notes: If you think these gluten-free donuts taste great, then you'd also love these Gluten-Free Gingerbread Cookies!
desserts, coco treasure organics, food, gluten-free, recipes, fried gluten-free donuts, gluten-free donuts, fried donuts February 06, 2018 07:12
Author https://cocotreasure.com/recipes/frie...
Share the recipe with your friends
No one has liked this recipe.
0 comments