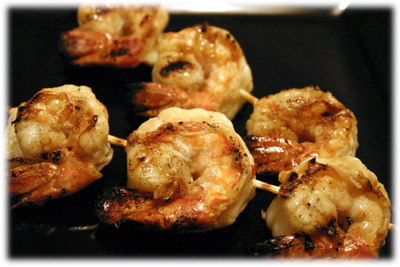 Ingredients
for Serves 8. Makes approx. 16 pieces (2 per person)
- 3 garlic cloves (or 3 tsp minced garlic)
- 1 large red chilli or 4 birdseye chillies, seeded and finely diced
- 2 Tbsp butter, melted
- 1 tsp lemon juice
- 1 tsp lime juice
- a pinch of salt
- a dash of cracked pepper
- a splash of extra virgin olive oil
- about 60mL Cognac brandy
- approx. 1kg (30-40) peeled raw prawns (preferably tail off but this is not essential)
Prep. Time → 25 min
Cook Time → 5-10 min
1. Step 1. Combine in a ceramic bowl the garlic, chilli, lemon and lime juice, butter, salt and pepper and mix well with a metal spoon.
2. Step 2. Add the prawns and coat them evenly in the mixture, then cover with cling wrap and place in the fridge for 10 minutes.
3. Step 3. Heat a pan (preferably grill pan) with a splash of olive oil over high heat.
4. Step 4. Thread the marinated prawns onto wooden skewers (about 2 or 3 on each one, depending on how many prawns there are) and place them in the pan for about 1-2 minutes each side.
5. Step 5. Depending how many skewers you are cooking at a time, the amount used will vary so use your best judgement and add the brandy to quickly flambe the prawns (this can be quite theatrical if you do it right and can be entertaining for guests but be careful of the flames - safety first!).
6. Step 6. Remove from pan and serve immediately.
appetizers, asian cuisine, chilli, garlic, prawns, shrimp, skewers, thai cooking, flambe April 13, 2014 16:36
Author modified from: taste.com.au/recipes/22789...
Share the recipe with your friends
No one has liked this recipe.
0 comments