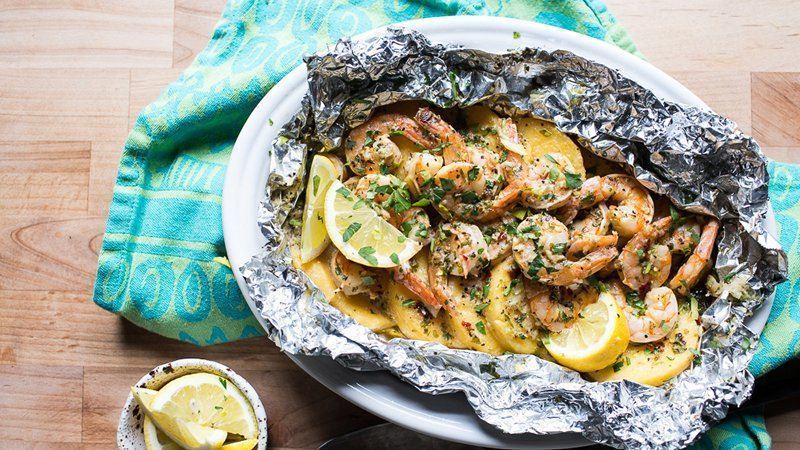 Ingredients
for 4 servings
1 roll (1-pound) refrigerated polenta, cut into 1/2-inch slices
2 tablespoons olive oil
Salt and pepper, to taste
1 pound shrimp, uncooked, deveined, peeled
4 tablespoons butter, melted
1 cup fresh parsley, chopped
2 cloves garlic, grated or finely chopped
Juice of 1 lemon, plus lemon wedges for serving
Pinch of crushed red pepper flakes
Additional chopped fresh parsley
Prep. Time → 10 min
Cook Time → 15 min
1. Heat gas or charcoal grill.
2. Place large sheet of heavy-duty foil or double layer of regular foil on work surface. Rub foil with a little olive oil.
3. Arrange slices of polenta in center of foil. Drizzle with olive oil; sprinkle with salt and pepper.
4. In medium bowl, toss shrimp with melted butter, parsley, garlic and lemon juice. Sprinkle with salt, pepper and crushed red pepper flakes. Add shrimp on top of polenta, getting all the butter out of the bowl.
5. Bring short ends of foil together, and fold twice to seal; fold in sides to seal, leaving room for steam.
6. Place packets on grill over medium-high heat. Cover grill; cook 10 to 15 minutes or until shrimp are pink.
7. Remove from grill; unwrap and top with additional fresh parsley and lemon wedges.
main courses, grill, shrimp, foil packs, seafood June 28, 2016 14:45
Author bettycrocker.com/recipes/g...
Share the recipe with your friends
No one has liked this recipe.
0 comments