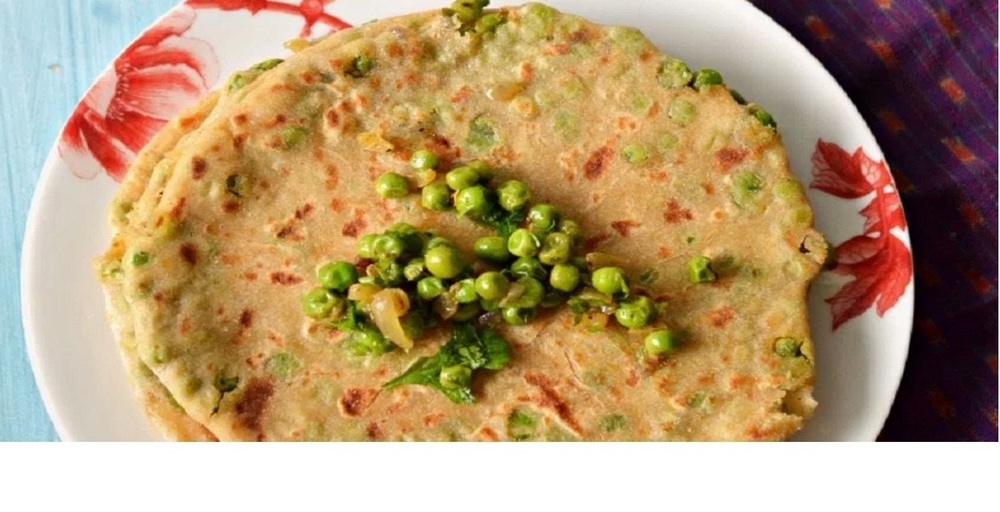 For The Dough
3/4 cup whole wheat flour gehun ka atta
1/4 cup soya flour
1/2 tsp Salt
1/2 tsp ghee
For the stuffing
1/2 tbsp ghee
1 tsp Cumin seeds jeera
1/2 tsp finely chopped green chillies
1 cup boiled green peas mashed
salt to taste
other ingredients
whole wheat flour for rolling gehun ka atta
1 tsp oil for cooking
Prep. Time → 30 min
Cook Time → 30 min
1. Preparing the dough:
Take both the flours and mix with salt. Sieve the mixture well.
Now, in a big bowl add the flours and ghee and knead to make dough. Add water when necessary.
Divide this dough into 4 portions.
2. Preparing the stuff:
In a pan, add some ghee.
Once the ghee is hot, add cumin seeds.
Saute until they crackle.
Now, add the green chillies and saute for a minute.
Now, add the mashed peas and salt. Saute for about a minute.
Remove the pan from the stove, and allow the mixture to cool completely.
Divide this mixture too into 4 portions.
3. Preparing the Paratha:
Take one dough and roll it out into a circle using some flour for rolling.
Place the stuffing in the centre.
Bring together all the sides of the centre and seal tightly.
Till it again into a bigger circle.
Heat a pan and place the paratha when the pan is hot.
Cook until its golden brown on both sides. Use 1/4 teaspoon of oil.
main courses, cooking, snacks, paratha recipe, vegetarian recipe June 27, 2017 10:52
Author https://hungryforever.com/recipe/...
Share the recipe with your friends
No one has liked this recipe.
0 comments