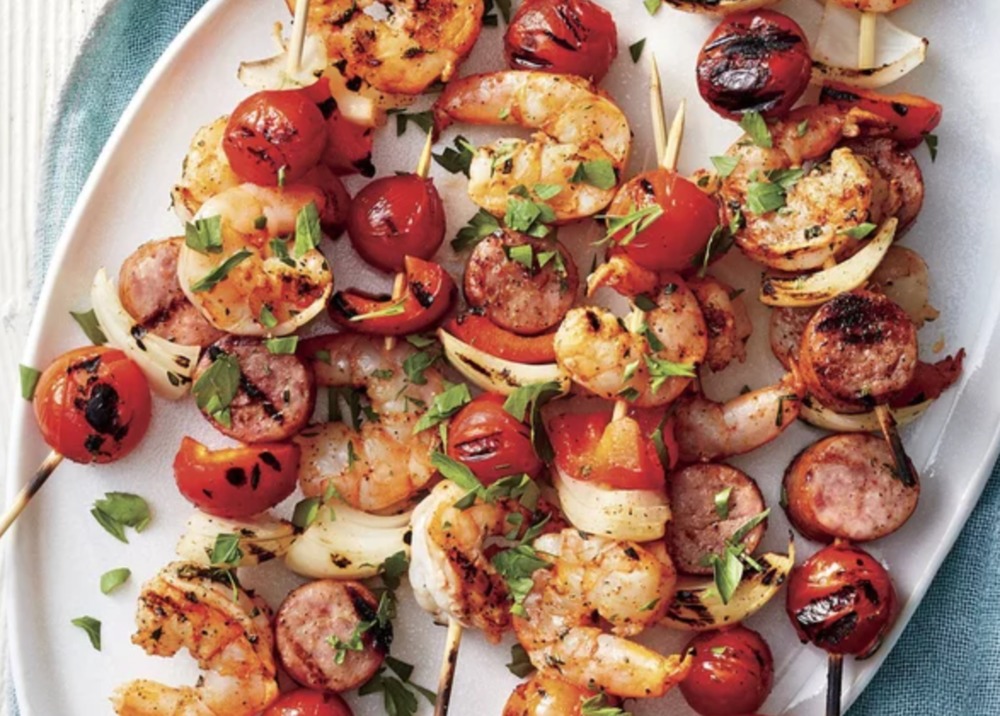 8 ounces large peeled, deveined raw shrimp (about 16)
6 ounces smoked sausage (such as Conecuh), cut into 1⁄2-inch rounds (about 1 cup)
1 small sweet onion, cut into 1-inch pieces (about 1 cup)
1 small red bell pepper, cut into 1-inch pieces (about 3⁄4 cup)
16 cherry tomatoes (about 1⁄2 pint)
3 tablespoons olive oil
2 teaspoons Cajun seasoning (such as Slap Ya Mama)
1 teaspoon chopped fresh thyme
1/2 teaspoon chopped fresh oregano
2 tablespoons chopped fresh flat-leaf parsley
Prep. Time → 20 min
Cook Time → 4 min
1. Preheat grill to high (450°F to 500°F), or heat a grill pan over high. Combine shrimp, sausage, onion, bell pepper, tomatoes, olive oil, Cajun seasoning, thyme, and oregano in a large bowl, and toss to coat. Thread mixture onto 8 (10-inch) skewers, alternating ingredients.
2. Place skewers on oiled grates, and grill, uncovered, until vegetables and sausage are lightly charred and shrimp is cooked through, about 2 minutes per side. Transfer skewers to a serving plate, and sprinkle with parsley.
main courses, sausage, seafood, shrimp, tomatoes, grill July 09, 2019 10:56
Author https://southernliving.com/recipe...
Share the recipe with your friends
No one has liked this recipe.
0 comments