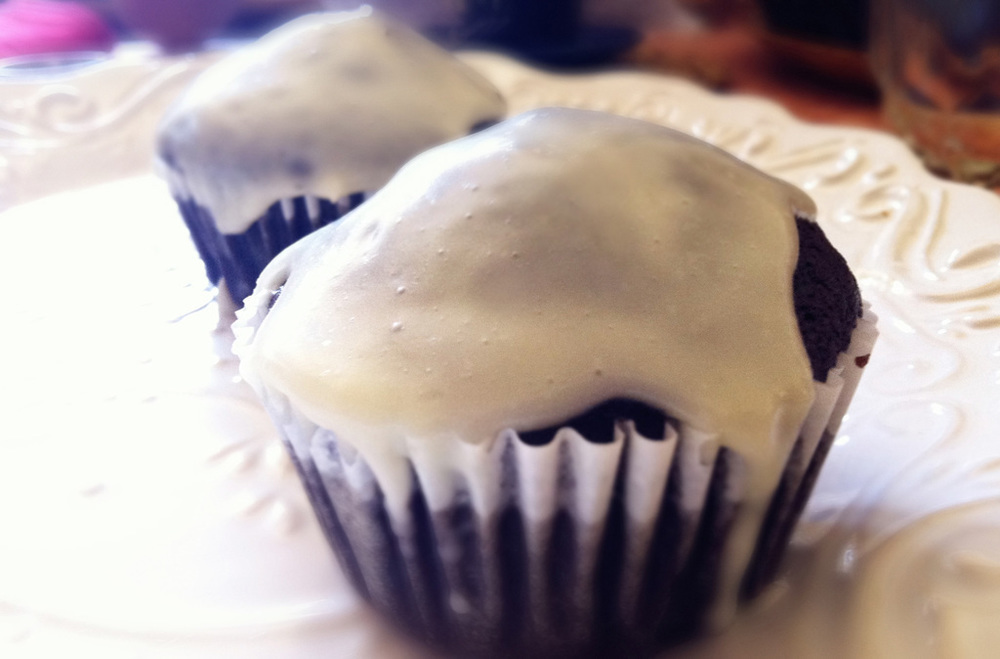 Ingredients
for 24 Cupcakes
1 cup Guinness
9 tb, unsalted butter
3/4 cup unsweetened cocoa
2 cups dark brown sugar
3/4 cup sour cream
2 eggs
1 tsp vanilla extract
2 cups flour
2 1/2 tsp baking soda
Icing
225gm cream cheese
1 1/4 cups confectioners' sugar
3 Tsp milk
1. Preheat oven to 180 C. butter and line a muffin tin.
2. Combine the Guinness and the butter, in a large sauce pan, and heat to melt the butter. Remove from heat, and whisk in the cocoa and sugar.
3. In a bowl, whisk the sour cream with the eggs and vanilla, then add to the beer mixture.
4. Sift together the flour and baking soda, and fold into the batter.
5. Pour into muffin molds and bake for 25 minutes, or until inserted cake tester comes out clean. Let stand 10 minutes, remove from muffin tin, and cool completely on a rack.
6. Icing
Using a mixer, whip cream cheese until smooth, sift in sugar, and beat. Add milk, and beat until smooth. Spread glaze over cooled cupcakes.
desserts, chocolate, cupcakes, icing, guinness March 09, 2012 13:04
Author bigcitylittlekitchen.com/2...
Share the recipe with your friends
No one has liked this recipe.
0 comments