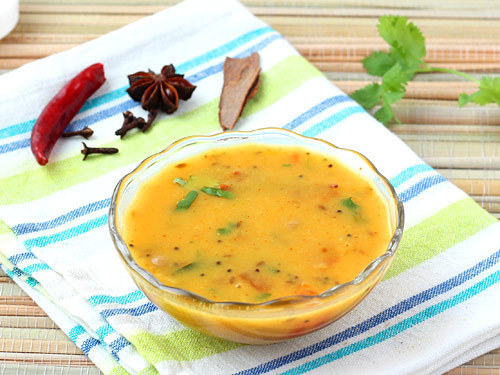 Ingredients
tuvar dal - 1 cup
Grated ginger - 1 tbsp
Finely chopped tomatoes - 1 cup
Mustard seeds - 1 tsppeanuts roasted and husked - 1/2 cup
cumin seeds - 1 tsp
Lemon juice - 2 tbsp
Cinnamon - 1 inch long
Turmeric powder - 1/2 tsp
red chilli powder - 1/2 tsp
Coriander powder - 1 tsp
Grated jaggery - 3 tbsp
Cooking Oil - 1 tbsp
Asafoetida - 1/4 tsp
coriander leaves for garnishing
curry leaves - 1 sprig
salt to taste
Prep. Time → 5 min
Cook Time → 20 min
1. Soak the lentil for half hour in some water.
2. Add oil in the pressure cooker and when its warm add asafoetida, mustard seeds, cumin seeds and saute.
3. When mustard seeds crackle add cinnamon, curry leaves, grated ginger, chopped tomatoes and saute for few minutes till tomatoes get mashed and cooked nicely.
4. Now add soaked lentil, turmeric powder, coriander powder, red chilly powder, roasted peanuts, grated jaggery, salt to taste, lemon juice and 3 cups of water and mix well.
5. When it starts boiling, close the cooker and let it give 2 whistles. When the pressure comes down whisk the lentil and add more water if you feel its thick as this lentil is usually more watery.

Garnish it with coriander leaves before serving.
main courses, daal, lentils September 10, 2014 03:13
Author Nitu Bajwa Malladi