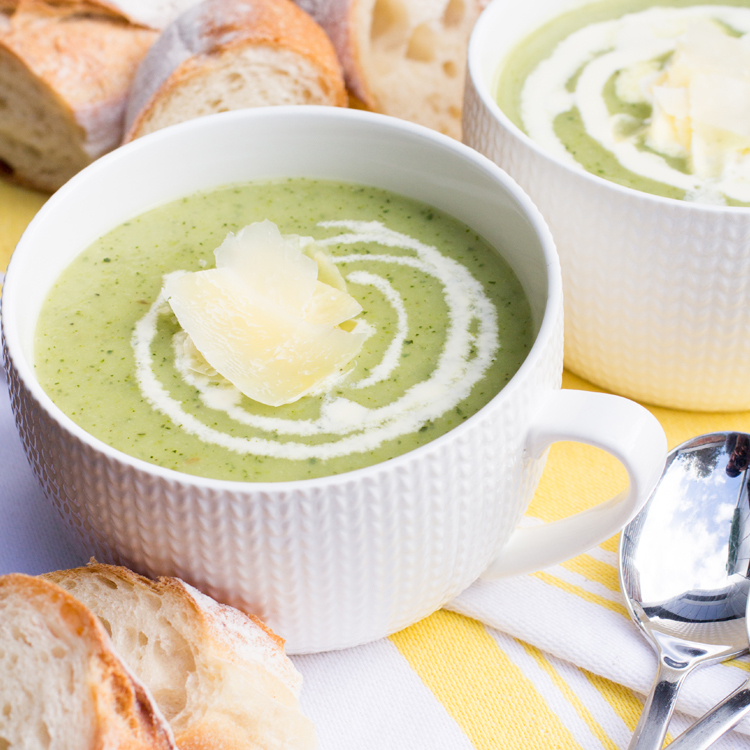 Ingredients
1 tbsp oil
4 medium sized zucchini chopped
1 leek, chopped
1 brown onion, diced
2 garlic cloves, crushed
2 potatoes, chopped
1 tsp dried tsp Thyme leave
4 cups stock (vegetable)
Salt and pepper
Cream and Parmesan cheese to serve
Prep. Time → 5 min
Cook Time → 25 min
1. Heat oil in a large saucepan over medium heat. Add the leek, onion, garlic and thyme and cook, stirring, for 1 minute or until the onion and leek softens slightly.
Increase heat to high. Add the zucchini, potato, stock and bring to the boil. Cook, stirring occasionally, for 10 minutes or until the potato is tender. Remove from heat and cool for 5 minutes.
Blend together in a food processor or blender until smooth. Return soup to the heat to warm through.
Season with salt and pepper. Serve with cream or parmesan cheese (or both!) and with crusty bread.
starters, diet, easy, healthy, leek, potatoes, quick, soup, vegetarian, winter, zucchini June 02, 2019 03:42
Author https://grabyourspork.com/recipes/sou...
Share the recipe with your friends
No one has liked this recipe.
0 comments