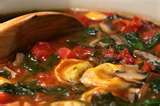 Ingredients
1 lbs ground beef
1 whole onion chopped
2 whole carrots sliced
2 stalks celery sliced
2 15oz cans Italian-style diced tomatoes
1 can garbanzo beans (drained and rinsed)
1 can kidney beans (drained and rinsed)
4 15oz cans beef broth
1/2 teaspoon basil
1/2 teaspoon oregano
1 package (16oz) package of cheese tortellini (fresh or frozen)
Directions
1. Brown ground beef, onion, carrots, and celery together until onion is soft.
4. Simmer until carrots are soft, around 15 minutes.
5. Stir in basil and oregano and season with salt and pepper if desired.
6. About 15 minutes before eating increase heat to a boil. Add tortellini and cook per package directions. Then serve.
February 09, 2011 04:06