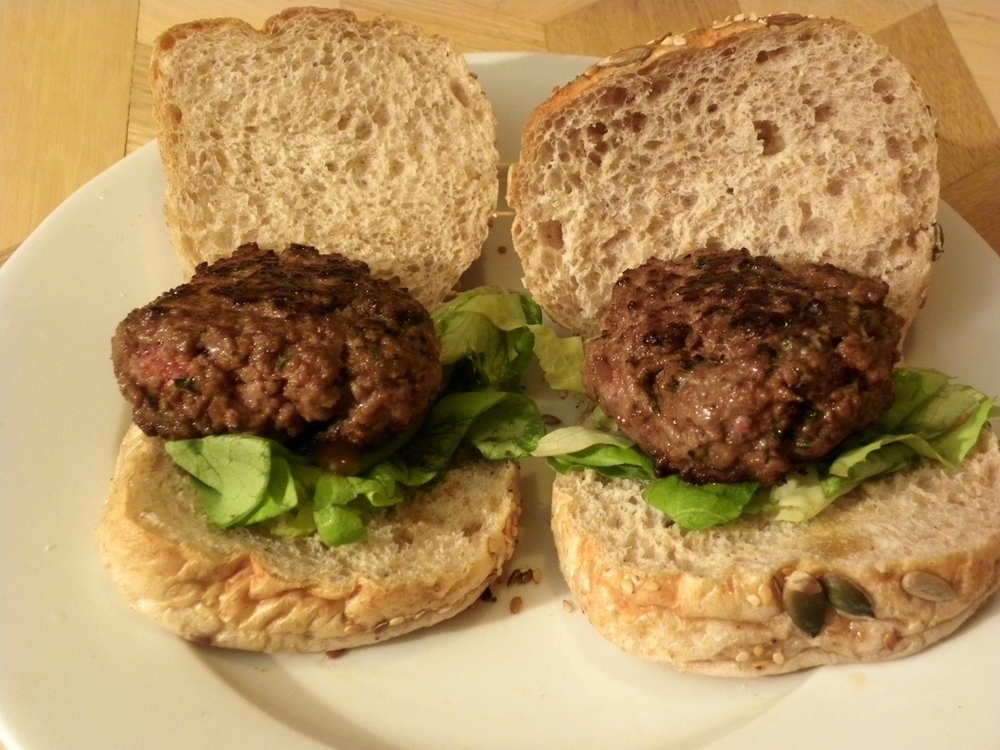 500g mince beef, 1 large onion, half a dozen Jacobs cream crackers, Rosemary, Olive Oil, three garlic cloves, a large egg, Salt & pepper, Cream Cheese Bread buns to serve.
Prep. Time → 15 min
Cook Time → 15 min
1. You know burgers are one of those things that are ultimately so easy to do, once you've done them, you'll never buy burgers again. They can be made in bulk, to size and happily frozen until you need them.
2. Firstly, get yourself a large mixing bowl and tip in the mince, season with lot's of Salt & Pepper, Olive Oil, and you can even add a splash of Worcestershire Sauce, add the Rosemary, and give a good mix with your hands.
4. HERBY HINT - Alongside Rosemary, chopped Thyme and Parsley also works well with home made beef burgers.
5. Pop the crackers into a zip lock back and use a rolling pin to smash them up into fine crumbs, and pour them in, along with cracking the egg in. Again, give a good mix up with your hands until the mixture get's a bit gloopy and firm.
6. Using wet hands (that's right, run them under the tap) and mould patties. They don't have to be perfectly flat, but you do want to make sure they are as even as possible so they cook well.
7. TOP TIP - You can use a cake ring to help mould them, it does make them look great, but takes away that home-made feel as they then start to look like Supermarket bought ones.
8. pop them onto a plate, with a little more olive oil, cover in foil and pop into the fridge for about 15 minutes to firm up.
9. Heat up a griddle pan until its smoking, and simply cook your burgers. Leaving them for a few minutes on each side before you flip them to ensure they stay together.
10. Your looking for char marks and you can finish them off with a BBQ Sauce glaze, for that extra special touch.
11. Serve in a bun, with some cream cheese, and maybe some spinach.
main courses, burgers, beef burgers January 17, 2014 23:21
Author Mario De'Cristofano