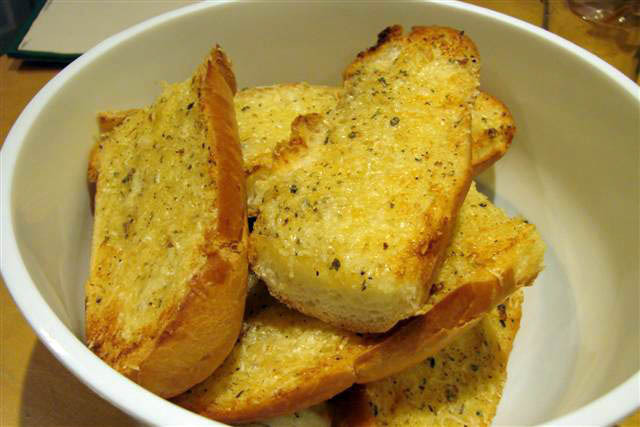 1 16-ounce loaf of Italian bread or French bread , 1/2 cup (1 stick) unsalted butter, softened , 2 large cloves of garlic, smashed and minced , 1 heaping tablespoon of freshly chopped parsley , 1/4 cup freshly grated Parmesan cheese (optional)
Prep. Time → 10 min
Cook Time → 10 min
1. Garlic bread is one of those things which are so good now frozen, it almost seems silly to go to any effort & make your own. The thing is, by making your own, you can infuse & impart all kinds of flavour, and really make it your own. Its quick & simple (a bit like me) and once you've got it nailed, you can bang these out quicker than Will.I.am can do remixes.
2. So first, get your oven smoking hot, 350 degrees, or the temprature of the fiery corona of the sun, whichever comes first.
3. Cut the bread in half, horizontally. Mix the butter, garlic, and parsley together in a small bowl. Spread butter mixture over the the two bread halves. Place on a sturdy baking pan (one that can handle high temperatures, not a cookie sheet) and heat in the oven for 10 minutes.
4. Remove pan from oven. Sprinkle Parmesan cheese over bread if you want. Return to oven on the highest rack. Broil on high heat for 2-3 minutes until the edges of the bread begin to toast and the cheese (if you are using cheese) bubbles. Watch very carefully while broiling. The bread can easily go from un-toasted to burnt.
5. Remove from oven, let cool a minute. Remove from pan and make 1-inch thick slices. Serve immediately.
side dishes, garlic bread March 27, 2012 11:52
Author Mario De'Cristofano