Hyderabadi Chicken Biryani - Find Authentic Recipes of non-vegetarian hyderabadi biryani. We will help you to make delicious non-vegetarian hyderabadi biryani by proving best recipes.
Ingredient
500 grams of Kohinoor Gold Extra Long Basmati Rice
1 Kg mutton (or chicken/lamb)
2 cups curd
2 tbsp garam masala powder
2 tbsp garlic & ginger paste
2 cups golden friend sliced onions
3 green chillies
2 lemon (juice)
1tbsp meat tenderizer
1 bunch mint
1 bunch coriander leaves
5 tbsp cooking oil
1tbsp red chilli powder
1 pinch saffron
1 pinch turmeric powder
2 boiled eggs (for decoration)
50 g cashew nuts (optional)
Salt to taste
Prep. Time → 30 min
Cook Time → 120 min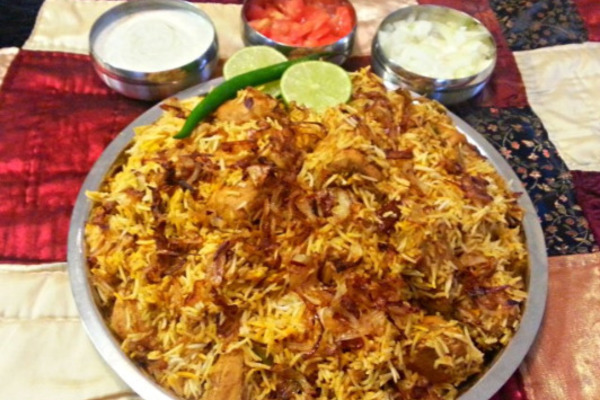 1. First boil the water, add oil, salt and cook the Kohinoor Gold Extra Long Basmati Rice till it is half cooked, and keep aside.
Next marinate the mutton (chicken or lamb, if you prefer) by adding all the spices, curd, onion, and garlic & ginger paste. Keep aside for 1 to 1.5 hours.
Now in a pan put some oil and then add the marinated mutton in the bottom layer and top it with half cooked basmati rice, add mint leaves, coriander leaves and friend onions.
Repeat the same process twice to create 2 layers.
Put saffron, pre-soaked in a little milk, cook for 30 minutes, or till cooked through.
Garnish with friend onions, fried cashews, slit and fried green chilies.
Serve hot with raita and Mirchi Ka Salan.
main courses April 17, 2018 19:25