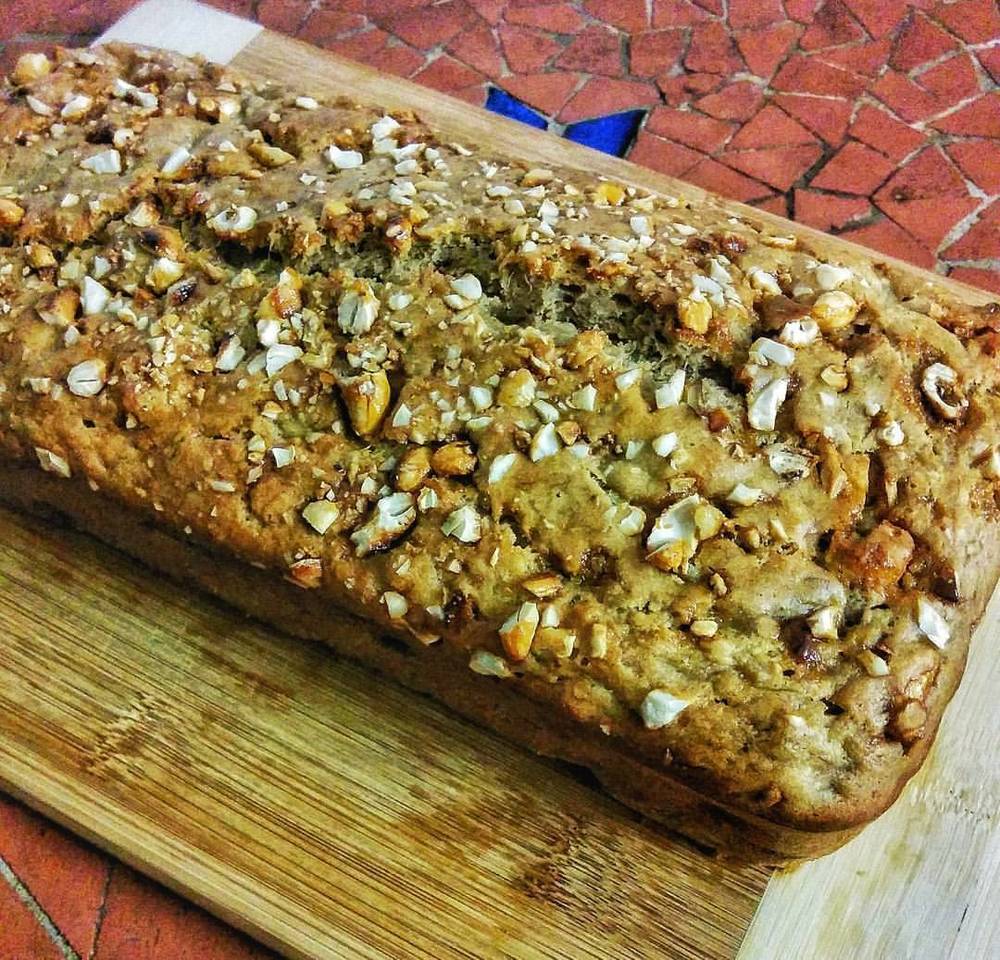 Ingredients
Melted low-fat dairy spread, to grease
265g (1 3/4 cups) self-raising flour
40g (1/4 cup) plain flour
1 teaspoon ground cinnamon
140g (2/3 cup, firmly packed) brown sugar
3 overripe medium bananas, mashed
2 eggs, lightly whisked
vanilla
125ml (1/2 cup) coconut cream or milk
50g butter, melted, cooled or 1/4 c coconut oil
Caramelized cashews
handful of cashews
1-2 tbsp caster sugar
1. Preheat oven to 180°C.
Lightly toast cashews than add the caster sugar into the pan and wait till it melts and starts to caramelized. Coat the cashews in the caramel and pour on the cutting board. Wait till the mixture is cool and roughly chop.
Brush an 11 x 21cm (base measurement) loaf pan with melted dairy spread to lightly grease. Line the base and 2 opposite sides with non-stick baking paper, allowing it to overhang.
Sift the combined flours and cinnamon into a large bowl. Stir in the sugar and make a well in the centre. Mash bananas in a medium bowl. Add the eggs, milk, vanilla and melted butter, and stir until well combined. Add the banana mixture to the flour mixture and stir until just combined than add the chopped cashews (reserve some for topping). Spoon the mixture into the prepared pan and smooth the surface and sprinkle the rest of the caramelized cashews on top.
Bake in preheated oven for 45-50 minutes or until a skewer inserted into the centre comes out clean. Remove from oven and set aside in the pan for 5 minutes. Turn onto a wire rack to cool completely. Cut into slices to serve.
desserts March 05, 2017 12:44
Author my recipe
Share the recipe with your friends
No one has liked this recipe.
0 comments