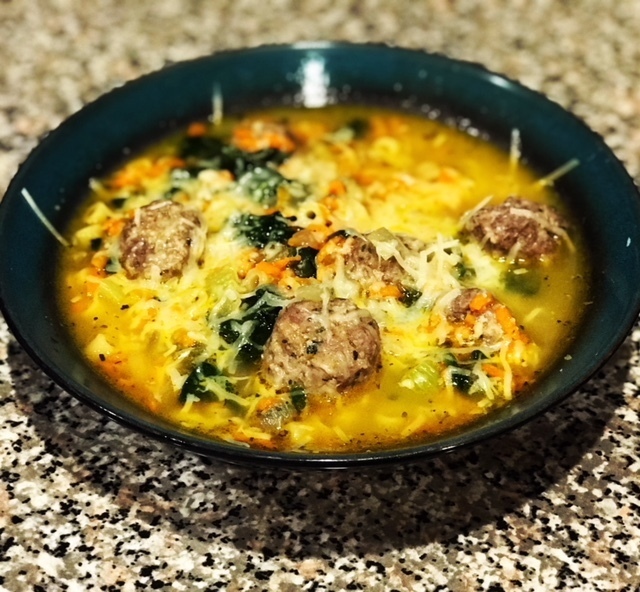 Video
Meatballs
1 pound ground beef (grass fed)
1/4 cup Italian bread crumbs
1/4 cup Parmesan Cheese
1/4 cup organic milk
1 egg
1 teaspoon parsley
1/2 teaspoon black pepper
Veggies & Broth
1/2 large onion, diced
2 organic celery stalks, sliced thin
3 organic carrots, shredded
3 garlic cloves
1 tablespoon olive oil
4-6 cups organic chicken broth
1 teaspoon Mrs. Dash garlic & herb
1/2 teaspoon oregano
1/2 teaspoon basil
2 teaspoons salt
1/2 teaspoon black pepper
1 cup small pasta (ditalini)
1 bag organic fresh spinach
Prep. Time → 15 min
Cook Time → 40 min
1. For the meatballs, combine ingredients in a large mixing bowl and form into tiny meatballs.
Place on baking sheet, drizzle with olive oil a dusting of dry Parmesan cheese.
Bake for 25 minutes at 350 degrees.
2. Heat a large soup pot over medium heat, and add olive oil and vegetables.
Cook several minutes until veggies soften.
Add broth & spices and bring to a boil.
Add the pasta and reduce heat to a low boil, and cook about 5 minutes.
Add meatballs and spinach and cook until done, about 5 minutes.
Top with fresh Parmesan cheese.
main courses, broth, italian, meatballs, pasta, soup, spinach February 16, 2018 16:45