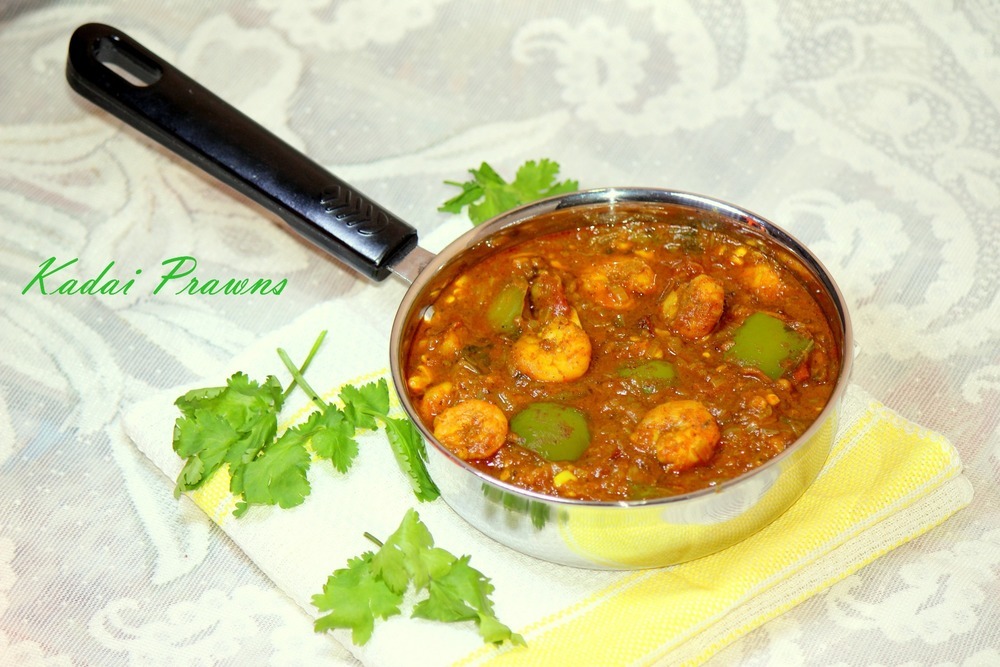 Prawns-300 gms
Onion-2 medium chopped finely
Ginger-garlic paste-1 tspn
Tomato-1 big
Capsicum-1 small cut into cubes
Red chilli powder-1 tspn
Coriander powder-1/2 tspn
Turmeric powder-1/4 tspn
Garam masala-3/4 tspn
Roasted cumin powder-1/2 tspn
Hing/Kayam-a pinch
Dry red chilli-2
Cumin seeds-1/4 tspn
Coriander leaves handfull chopped
Oil
Salt
Sugar-a pinch
To marinate
Red chilli powder-1/2 tspn
Coriander powder-1/4 tspn
Turmeric powder-1/4 tspn
Ginger-garlic paste-1/2 tspn
Lemon juice-2-3 tspn
Salt
Prep. Time → 30 min
Cook Time → 10 min
1. Marinate prawns with the ingredients listed for marination.Keep for 30 mints.
2. Heat oil in a pan.Splutter cumin seeds.Add dry red chilli and finely chopped onion.Saute till they start to change colour.
Now add ginger garlic paste.Saute till the raw smell goes.Now add chopped tomato and let them cook well.
Now add in all the masala powders.Saute till the oil starts to separate.Now add capsicum,coriander leaves and marinated prawns.Sprinkle
enough salt also.Add a pinch of sugar and kayam/hing also.Add 1/2 cup water, mix everything well,cover and cook in low flame for about 7-10 mints.
Finally sprinkle a little more garama masala,mix and switch off the flame.Serve hot with steamed basmathi rice or roti.
3. Note: Don't overcook the prawns.They tend to vecome rubbery when overcooked.
Add only a pinch of sugar and hing/kayam.A little more of them can spoil can taste of the curry.
side dishes February 21, 2015 17:45