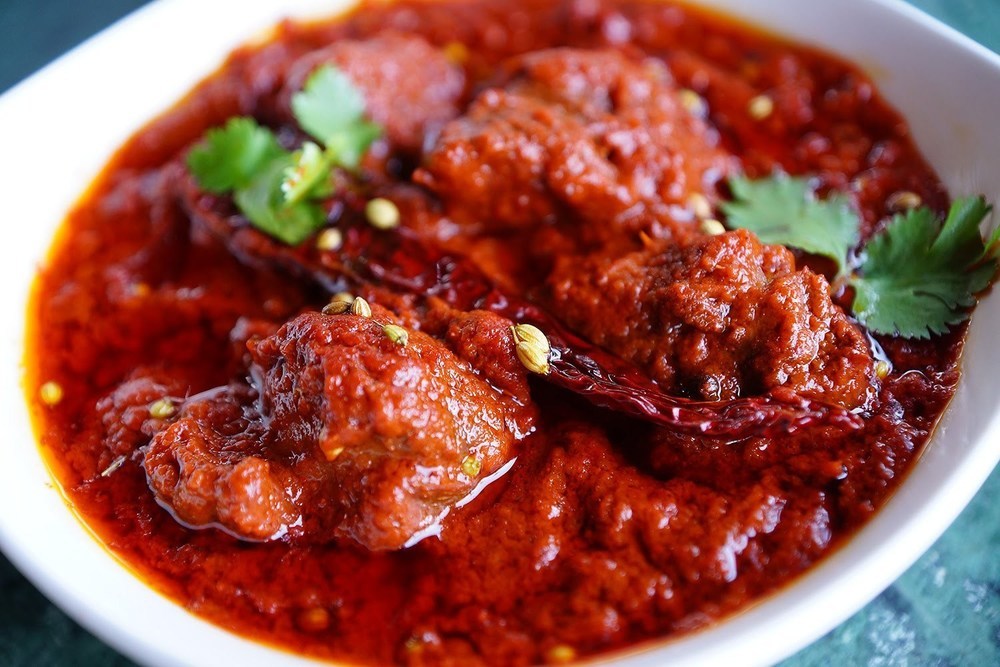 INGREDIENTS
Mutton pieces - 500 gm
Fresh yogurt - 300 gm
Ratanjot - 1 stick
Fennel powder - 1 tbsp
Dry ginger powder - 1 tsp
Saffron - few
Asafetida or hing - 1 pinch
Mustard oil - 4 tbsp
Kashmiri red chili powder - 2 tsp
Green cardamoms - 3
Cloves - 4
Mutton stock - 1 cup
Salt to taste
Prep. Time → 10 min
Cook Time → 60 min
1. Heat oil in a heavy bottom pan or presser cooker, add cardamom and cloves, fry for 1 minutes.
2. Add mutton, fry for 5 to 10 minutes till well fried, the color will turn brown.
3. Take yogurt in a mixing bowl, add ginger powder, saffron, asafetida, salt and fennel powder together to mix well.
4. Add 3 or 4 tbsp mutton stock with the yogurt, pour the mixture on the mutton, simmer the heat and cover the pan until mutton almost cooked or presser cook the mutton, wait for 4 or 5 whistles.
5. In another frying pan add oil and ratanjot stick, slowly fry it, the amazing red color will come out gradually, add little oil slowly.
6. Strain the oil, pour on mutton, add little mutton stock, the dish is little dry. in Kashmiri style the gravy is less but you can add stock as per you need gravy, but too much gravy can spoil the original taste of rogan josh.
7. Cook till mutton will be tender to eat.
main courses, mutton recipe, rogan josh recipe April 04, 2020 17:25
Author recipecuisine.com
Share the recipe with your friends
No one has liked this recipe.
0 comments