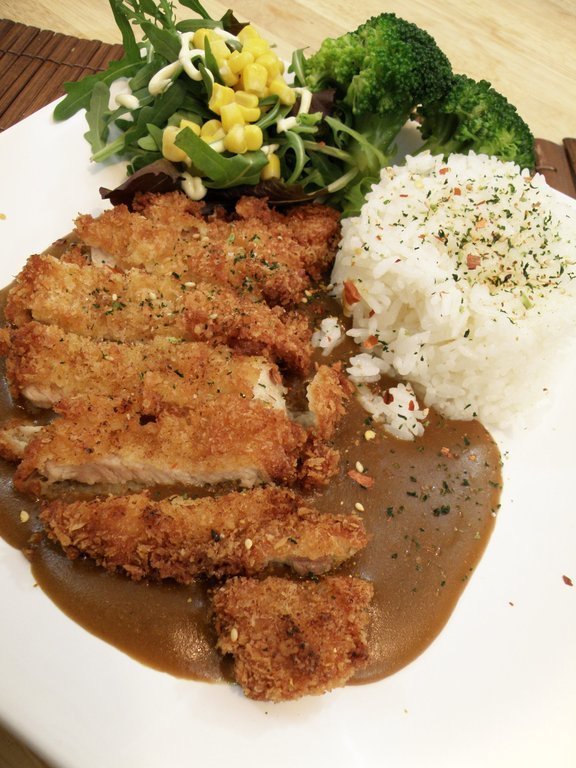 Ingredients
for Min: 2 people
Pork (You can also use Chicken Fillets as an alternative)
Flour
Egg
Bread Crumbs
Salt
Pepper
Japanese Rice
Japanese Curry Sauce
White Cooking Wine
Salad
Broccoli
Sweetcorn
Prep. Time → 25 min
Cook Time → 40 min
1. Step 1 - Rice (Cook Rice - I usually use a rice cooker to do so, it's the best way)
2. Step 2 - The Meat
Tenderize Pork with a kitchen hammer, or the back of a large chopping knife. (Chicken doesn't need this step), make a few cuts (about 4) into pork so it doesn't curl when frying.
3. Step 3 - Marinate and prepare the meat
Cut and Season Pork (Chicken) with salt, pepper, wine, (Make sure the pork is not too thick)
a) Dip Pork into flour
b) Dip Pork into Beaten Egg
c) Dip Pork into Bread Crumbs (Try to cover it all over with the bread crumbs - I use specialist Japanese bread crumbs, you can use any really, but it tastes more authentic if you use the Japanese one.)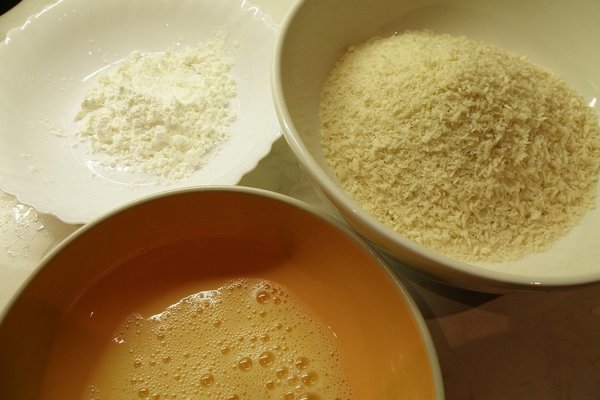 4. Step 4 - Deep Fry Pork / Chicken
Heat the oil until it's Hot, (you can test it by putting a tiny bit of bread crumb into the oil, if the crumb starts bubbling straight away then, the oil is ready) Place the meat into the oil (I use a small frying pan) and fry for a few minutes, remembering to turn the meat to ensure it's cooked all over. When it turns to a golden brown colour it should be ready. Drain the meat, and you can test it by cutting into the meat, the meat should be white of colour, i.e. no pinkness. (Place the cooked meat in a warm oven to keep warm. Place it on a raised rack so any oil can drip off.
5. Step 5 - Curry Sauce
I use Japanese Curry Sauce bought from the supermarket.
They usually come in block form and look like chocolate tabs. Heat some water in a pan, then just add the curry blocks and stir so they dissolve. Add as much water or curry as you like, depending on how thick or runny you prefer your sauce.
6. Step 6 - Broccoli
Cut, clean some Broccoli, and boil for around 8mins - Done..
7. You're done now! Oishi Kata! (Very Tasty in Japanese)
8. Place your rice on the plate/dish first I usually garnish with some Japanese rice toppings to add a bit of colour. Cut the Meat into strips then lay out next to the rice, then pour the curry sauce next to it.
9. You can also add some salad, Sweetcorn and Japanese Pickles.
10. Curry Sauce - http://www.japanesefoodshop.co.uk/sb--golden-curry-japanese-curry-sauce-hot---100g-103-p.asp
Bread Crumbs - http://www.japanesefoodshop.co.uk/hanayuki--panko-breadcrumbs-japanese-bread-crumbs---340g-27-p.asp
Japanese Rice - http://www.japanesefoodshop.co.uk/nishiki--premium-grade-rice-sushi-rice---10kg-158-p.asp
Rice toppings - http://www.japanesefoodshop.co.uk/nagatanien--katsuo-furikake-bonito-flavour-rice-seasoning-114-p.asp
Pickles - http://www.japanesefoodshop.co.uk/marutsu--pickled-vegetables-fukujinzuke-pickles---150g-53-p.asp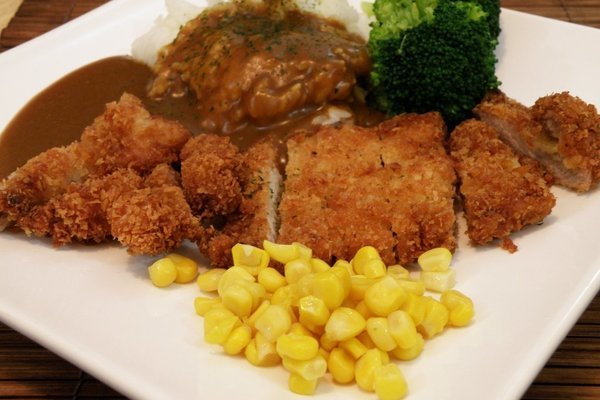 main courses, chicken, curry, asian, pork, katsu, japanese, kare July 11, 2011 11:26