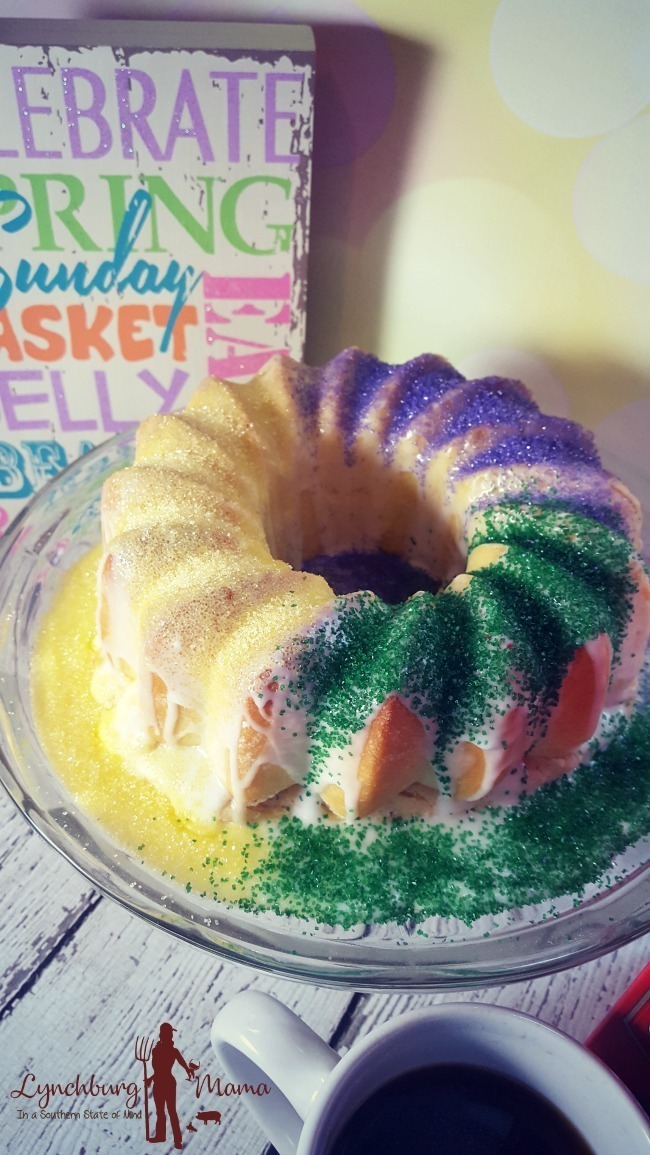 Ingredients
for 12-16 slices
Dough
1 cup milk whole
3 eggs large
8 tbsp butter melted
4½ cups flour all-purpose
½ cup sugar granulated
2¼ tsp instant yeast 1 packet
Filling
2 8 oz cream cheese blocks
1 tsp cinnamon
Icing
2 cups sugar powdered
3-4 tbsp milk
green sanding sugar
purple sanding sugar
yellow sanding sugar
Other Items
1 Plastic Baby
1. Dough
Use the whisk attachment of a stand mixer to mix the milk, eggs, and melted butter.
2. Tilt the top of the mixer and remove the whisk attachment. Replace with the dough hook.
3. Add the flour, granulated sugar, yeast, and salt into the mixing bowl. Mix with a spoon until wet.
4. Mix with the dough hook for 10-12 minutes. The dough will remain wet and sticky.
5. Place the dough in a greased bowl and cover with a towel. Let rise, at room temperature, until doubled in size.
6. Cake
Cream together the cream cheese and cinnamon. Set aside.
7. Roll out the dough onto a lightly floured surface approximately 18" x 24".
8. Spread the cream cheese/cinnamon mixture evenly across the dough.
9. Begin rolling on the long side and pinch the ends.
10. Grease the bundt pan and place the roll into the pan, seam side up.
11. Cover with a towel and allow to rise again for approximately an hour.
12. Preheat the oven to 350-degrees.
13. Place the bundt pan on the middle rack. Bake for 35-40 minutes.
14. Allow the cake to cool 10-15 minutes, then remove from the pan. Completely cool before icing.
15. Place a plastic baby into the cake from the bottom.
16. Icing
Mix the powdered sugar and milk together to create a thick, yet drizzle-worthy consistency.
17. Drizzle the icing all over the cake.
18. Sprinkle the colored sanding sugars on the cake.
19. Serve and enjoy! Tradition says whoever finds the baby in their slice will have good luck all year!
desserts, cake, dessert, easter March 31, 2018 04:09
Author https://lynchburgtnmama.com/celeb...
Share the recipe with your friends
No one has liked this recipe.
0 comments