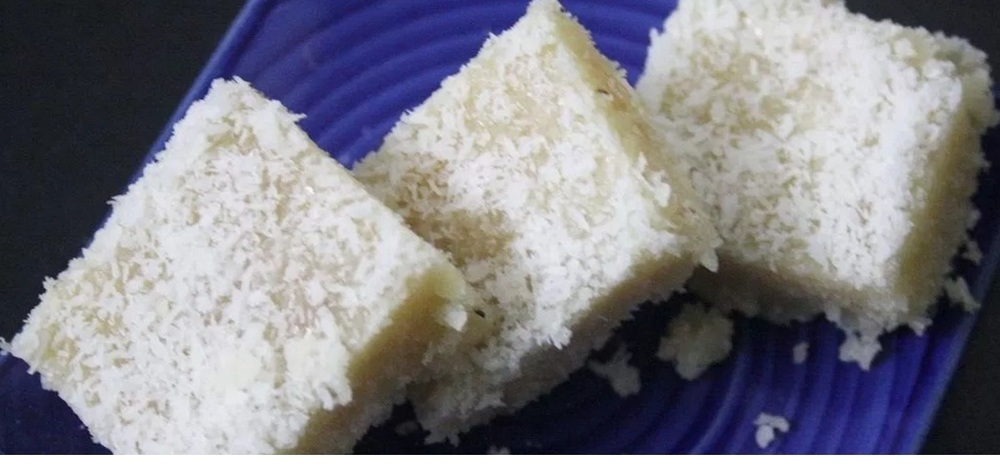 1 1/2 cups Grated fresh coconut
1 1/2 cups powdered sugar
1/4 tbsp saffron (kesar) strands
5 pistachios
5 cardamoms (elaichi), powdered
1 tbsp Milk
1 tbsp Lemon juice
2 tbsp ghee
Prep. Time → 20 min
Cook Time → 15 min
1. Blanch the pistachios and slice them.
2. Warm the saffron in a small vessel, add the vessel, add the milk and rub in until the saffron dissolves.
3. Add 1 1/2 teacups of water to the sugar and put to boil. When syrup starts boiling, add the lemon juice.
4. Remove the floating dirt and strain the syrup if necessary.
5. Boil the syryup again until it is of 2 thread consistency.
6. Add the coconut, ghee and prepared saffron. Remove from the heat immediately but go on stirring for a few minutes.
7. Spread the mixture on a thali (flat metal plate) and allow to cool.
8. Decorate with cardamom and pistachios. Cut into desired shape.
desserts, food, recipe, snacks, sweets July 10, 2017 10:59
Author https://hungryforever.com/recipe/...
Share the recipe with your friends
No one has liked this recipe.
0 comments