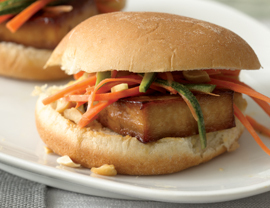 Ingredients
for 16 sliders
Sliders

1 14-oz. pkg. extra-firm tofu, patted dry
4 Tbs. low-sodium soy sauce
2 Tbs. natural cane sugar
2 tsp. toasted sesame oil
1 tsp. cornstarch
16 wheat or white slider-size buns
Slaw

3 Tbs. low-sodium soy sauce
2 Tbs. vegan mayonnaise
2 Tbs. no-salt-added creamy natural peanut butter
5 tsp. natural cane sugar
2 Tbs. rice vinegar
2 tsp. toasted sesame oil
1 clove garlic, minced (1 tsp.)
1/8 tsp. ground black pepper
1 pinch cayenne pepper, optional
4 medium carrots, julienned (8 oz.)
2 medium zucchini, julienned (8 oz.)
1/4 cup dry-roasted peanuts, finely chopped
Prep. Time → 70 min
Cook Time → 50 min
1. To make Sliders: Cut tofu into 8 slices lengthwise; halve slices to make 16 pieces. Transfer to baking dish. Whisk together soy sauce, sugar, oil, and cornstarch in bowl. Pour over tofu, cover, and chill 1 hour.
2. To make Slaw: Whisk together soy sauce, mayonnaise, peanut butter, sugar, vinegar, oil, garlic, pepper, and cayenne (if using) in bowl. Stir in carrots, zucchini, and peanuts. Chill.
3. Preheat oven to 375°F. Coat baking sheet with cooking spray. Drain tofu, and transfer to prepared baking sheet. Bake 25 minutes. 
Flip, and bake 20 to 25 minutes more, or until crispy. Fill buns with 1 tofu slice and 2 Tbs. Slaw.
vegetarian, tofu September 01, 2011 22:35