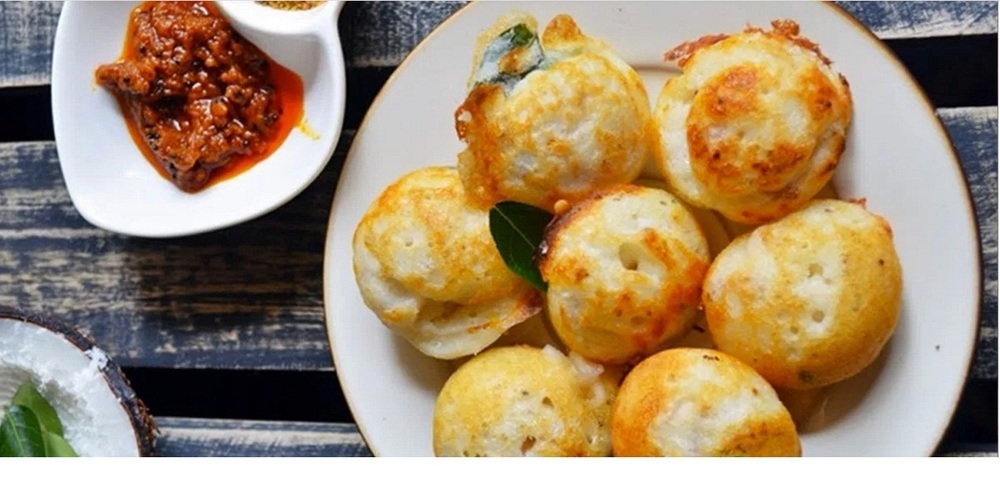 2 cups Rice
cup ½Urad Dal Black Gram
tsp ¼Methi Fenugreek Seeds
tsp ¼Mustard Seeds
2 tsp Oil
tsp ¼Cumin Seeds
10-12 Curry Leaves chopped
1 onion finely chopped
2-3 green chillies finely chopped
salt to taste
Prep. Time → 10 min
Cook Time → 20 min
1. Soak rice, and urad dal with fenugreek seeds in six cups of water for at least five hours. Drain and grind.
Ensure that the batter is not too smooth.
Add salt, mix well and allow it to ferment overnight.
Heat two teaspoons oil in a pan, add mustard seeds, cumin seeds, curry leaves, onion and green chilies and sauté for two to three minutes. Add tempering to the batter. Mix well.
Heat the paniyaram tawa over medium heat and grease each hollow with a little oil.
Pour a ladleful of batter in each hollow, drizzle oil and cook for four to five minutes till the underside is done.
Turn them over using a spoon and drizzle a little more oil and continue to cook for three to four minutes or until both the sides are evenly cooked. Prepare more paniyarams similarly.
Serve hot with chutney.
side dishes, indian snacks, easy kuzhi paniyaram recipe, kuzhi paniyaram, kuzhi paniyaram recipe, south indian snacks July 31, 2017 11:31
Author https://hungryforever.com/recipe/...
Share the recipe with your friends
No one has liked this recipe.
0 comments