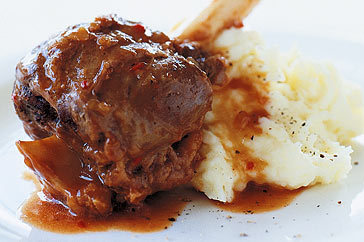 Ingredients
for 4-6 people
4-6 lamb shanks
Olive oil
1 tablespoon sugar
1 1/2 cups red wine
2 cups beef stock
3 cloves garlic crushed
20g butter
brown onion
celery stick (optional)
1 tablespoon flour
1 tablespoon tomato paste
rosemary
Prep. Time → 30 min
Cook Time → 250 min
1. Heat oven to 140 degrees
2. Brown shanks will in olive oil. Pour in stock, wine, sugar and garlic. Bring to the boil.
3. Put in baking dish. Cover and cook 4 hours, turning 3 times.
4. In the last 15 minutes, turn off the oven, put the shanks on a plate and cover with foil to rest them. Return them to a cooling oven.
5. Cook the onion and celery in butter, stir in flour with the heat off. Add liquid from the shanks, tomato paste and rosemary. Bring slowly to the boil. Simmer til thickened.
6. Strain and serve over lamb shanks.
7. Serving suggestion. Serve shanks on a bed of mashed potato with sauce and Caramelised Red Onions (see my recipe in Side Dishes).
main courses, meat, casseroles, lamb, lamb shanks, slow cooker May 29, 2011 09:49
Author Darcy