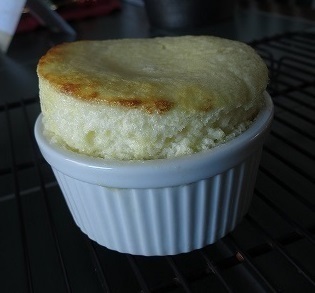 1 tsp butter (or more)
6 large egg yolks
1 Tbs minced or grated lemon zest
¼ cup freshly squeezed lemon juice
8 large egg whites
pinch salt
Prep. Time → 20 min
Cook Time → 30 min
2. 1. Butter a 2-quart soufflé or other deep baking dish. Pour a bit of the cup of sugar into the dish, tilt and rotate to coat all surfaces. Pour out excess sugar and use it in egg yolk mixture. Put dish in refrigerator.
3. 2. Mix egg yolks with 1/2 cup of the sugar with a whisk vigorously till light and a bit bubbly.
4. 3. Beat in the lemon juice and zest and set aside.
5. 4. Beat the egg whites with the salt until they hold soft peaks.
6. 5. Continue to beat gradually adding 1 /4 cup sugar, until they are stiff but still glossy .
7. 6. Stir in about 1 cup of the egg whites into the egg yolk mixture to lighten it.
8. 7. Fold in the egg yolk mixture into the beaten whites, using a rubber spatula. Do no over mix - stop when nearly everything is even - and still very light.
9. 8. Transfer to the prepared soufflé dish carefully - do not let the mixture touch the rim of the dish or up the sides except where it fills it from the bottom.
10. 9. Bake until the center is nearly set, 25 to 35 minutes
11. Tips
You can refrigerate the dish in the soufflé dish before baking - and keep it for a few hours - which makes it much easier for a dinner party.
The dish turned out a little sweet for me - so you can taste it when adding the egg yolk mixture with the sugar and adjust accordingly. You might notice that I perhaps never add the entire one cup of sugar to the mixture.
desserts, citrus, dessert, elegant, french, fruit, party, vegetarian March 15, 2020 14:57
Author I made this one from other sources, but adjusted it to work well for me.
Share the recipe with your friends
No one has liked this recipe.
0 comments