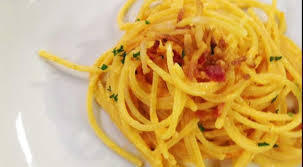 Ingredients
for 4 Persone
200 g di polpa di zucca
80 g di speck
320 g di linguine
2 cucchiai di olio evo
Prep. Time → 10 min
Cook Time → 10 min
1. Taglia la zucca a bastoncini e falli rosolare in un tegame con l'olio per 10 min.
2. Unisci lo speck a dadini piccolissimi, regola di sale e prosegui la cottura per 5 min a fuoco vivace.
3. Cuoci intanto le linguine, scolale un pò al dente, versale nel tegame con la zucca e aggiungi qualche cucchiaio di acqua di cottura quindi ripassa per qualche istante tutto a fiamma viva.
starters November 22, 2014 16:06
Share the recipe with your friends
No one has liked this recipe.
0 comments