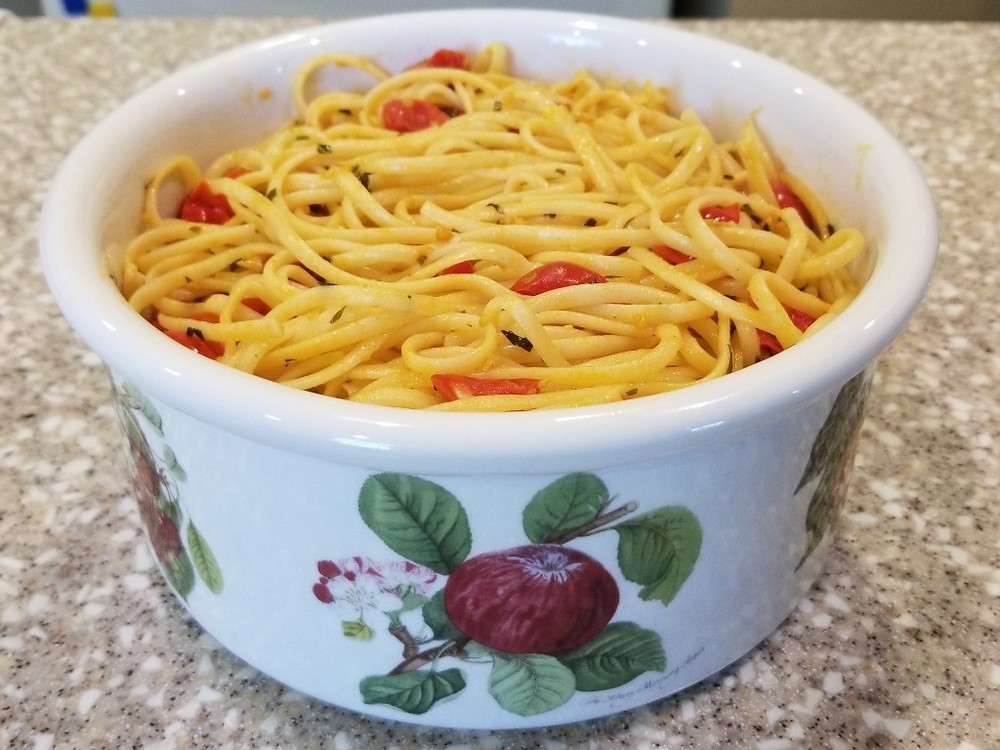 Ingredients
for 4 servings
10 oz linguine noodles (dry)
1 pt grape or cherry tomatoes, halved
6 cloves garlic, minced
2 English muffins, split
2/3 C fresh basil
½ C chicken broth or pasta water
1 t sugar
Prep. Time → 15 min
Cook Time → 10 min
1. Prepare pasta according to package directions. Drain and set aside.
2. Reserve 1 T chopped basil and 2 cloves chopped garlic for the muffins.
3. In a large sauce pan heat 2 T olive oil over medium-high heat. Add remaining chopped garlic to the oil and sautee for a few seconds until aromatic. Add tomatoes and remaining basil. Cook for 2 minutes. Add broth/pasta water and sugar. Cook 3-4 minutes until tomatoes soften. Season with salt and pepper. Reduce heat, stir in pasta and olives, mix well and heat through. Remove from heat, cover and keep warm while you prepare garlic toast muffins.
4. Heat broiler. Brush or spray (if you have an oil spray pump bottle) olive oil on open faces of English muffins (about 1 T total) . Spread 1/2 clove minced garlic on each muffin. Broil 3-4" from broiler for 2-3 minutes until golden (watch carefully) and remove. Sprinkle 1 T chopped basil across all four muffin faces.
5. Serve pasta sprinkled with grated Parmesan cheese and basil.
main courses, italian, linguine, pasta, tomatoes August 20, 2018 14:26
Author Smith, Peg
Share the recipe with your friends
No one has liked this recipe.
1 comment