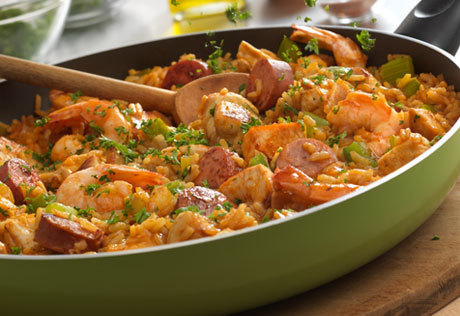 Ingredients
for 4 servings
1 tablespoon olive oil
12 ounces skinless, boneless chicken breast halves, cut into 1-inch pieces
2 ounces smoked turkey sausage, cut into 1/2-inch slices
2 stalks celery, chopped (about 1 cup)
1 large green pepper, chopped (about 1 cup)
1 large onion, chopped (about 1 cup)
2 cloves garlic, chopped
1 cup uncooked whole grain parboiled brown rice
1/2 teaspoon dried thyme, crushed
1/8 teaspoon cayenne pepper (or to taste)
1 can (10-3/4 ounces) Campbell's Healthy Request Condensed Tomato Soup
1-1/2 cups water
2 ounces uncooked shrimp (31-40 count per pound), peeled and deveined
2 tablespoons chopped fresh parsley
Prep. Time → 40 min
Cook Time → 50 min
1. Heat the oil in a 12-inch skillet over medium-high heat. Add the chicken and sausage and cook until browned, stirring often. Remove the chicken and sausage from the skillet. Pour off any fat.
2. Add the celery, pepper, onion and garlic to the skillet and cook for 7 minutes or until the vegetables are tender, stirring occasionally.
3. Add the rice, thyme and cayenne pepper to the skillet and cook and stir for 1 minute. Stir in the soup and water and heat to a boil. Return the chicken and sausage to the skillet. Reduce the heat to low. Cover and cook for 15 minutes. Stir in the shrimp. Cover and cook for 10 minutes or until the chicken and shrimp are cooked through and the rice is tender. Sprinkle with the parsley, if desired.
main courses, chicken, sausage, shrimp, seafood June 28, 2016 14:50
Author campbellskitchen.com/recip...
Share the recipe with your friends
No one has liked this recipe.
0 comments