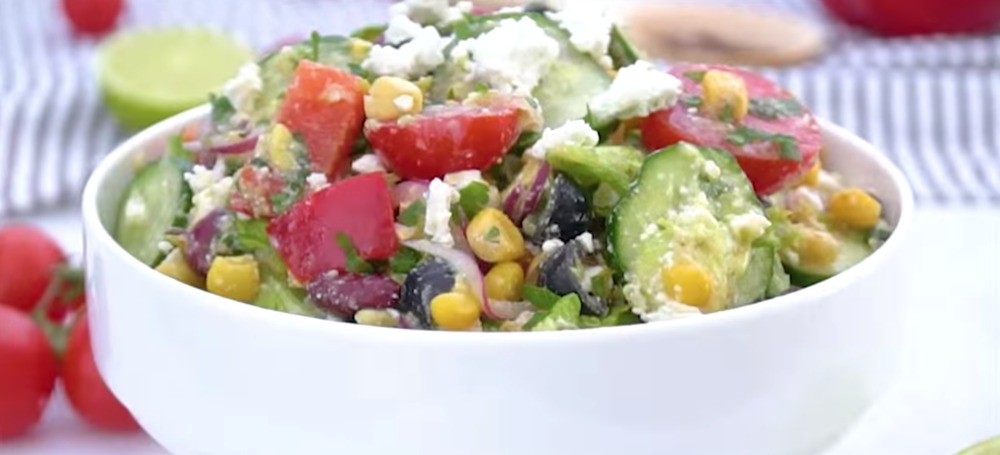 Ingredients
for 6 servings
1 large head Romaine Lettuce, rinsed, chopped, and dried
1 cup cherry tomatoes, halved
1 English cucumber, sliced
1 small red onion, thinly sliced
1 15.25-ounce can red beans, drained and rinsed
1 15.25-ounce can sweet corn, drained
1 red bell pepper, chopped
1/2 cup black olives, cut in half
1/3 cup fresh cilantro, chopped
1 cup crumbled cotija cheese (or feta cheese)
Lime Dressing Ingredients
1/3 cup extra virgin olive oil
1/4 cup red wine vinegar
1 tablespoon honey
Juice of 1 lime
Zest of 1 lime
1/4 teaspoon cumin
1/4 teaspoon chili powder
1/2 teaspoon sea salt
1/8 teaspoon black pepper, freshly ground
Prep. Time → 30 min
Cook Time → 0 min
1. Make the dressing: First, combine all the dressing ingredients in a small bowl, stir to combine and set aside.
2. Assemble the salad: Chop the salad ingredients and combine them in a separate bowl, except for the cheese. Then, add the dressing and toss to combine. Garnish with cotija cheese on top and serve.
starters, beans, corn, ethnic, lettuce, mexican, olives, onion, salad, tomato August 20, 2021 15:06
Author https://sweetandsavorymeals.com/mexic...
Share the recipe with your friends
No one has liked this recipe.
0 comments