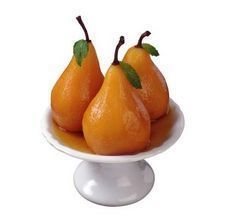 Ingredients
for 4-6 people
4 cooking apples - red or green
60g butter or margarine, softened
1/4 cup brown sugar, loosely packed
1/4 cup sultanas, raisins or chopped dates
1/2 cup water
Prep. Time → 10 min
Cook Time → 10 min
1. Wash apples and remove the core. To ensure apples stand evenly cut a thin slice off the base of each. Slit the skin in a few places so that they will not break apart during cooking.
2. Fill the apple cavities with a mixture of the butter, brown sugar and dried fruit and place in a micro-safe container. Pour water around the apples, cover and micro-cook on maximum power for 8-10 minutes.
Allow to stand for 10 minutes before serving hot with custard or cool and chill to serve with cream.
3. Variations: - a. Replace sultanas with chopped glace cherries, almonds and 1/4 teaspoon nutmeg. b. Add a little grated orange or lemon rind to the filling mixture and use diluted fruit juice for the water. c. Drizzle a little sweet sherry down through the filling.
4. Baked Pears: Peel 4 pears carefully without removing the little stalk; place in the micro-safe dish and drizzle one of the following liquids over the tops. Cook as for apples, allowing 6-8 minutes.
5. Variations of liquids: a. Honey with sweet sherry; b. Marmalade with orange juice; c. Burgundy with sugar and cinnamon; d. Golden syrup with lemon juice.
desserts, lemon, fruit, pears, microwave July 15, 2011 23:47
Author Microwave Magic by Mitsubishi Electric