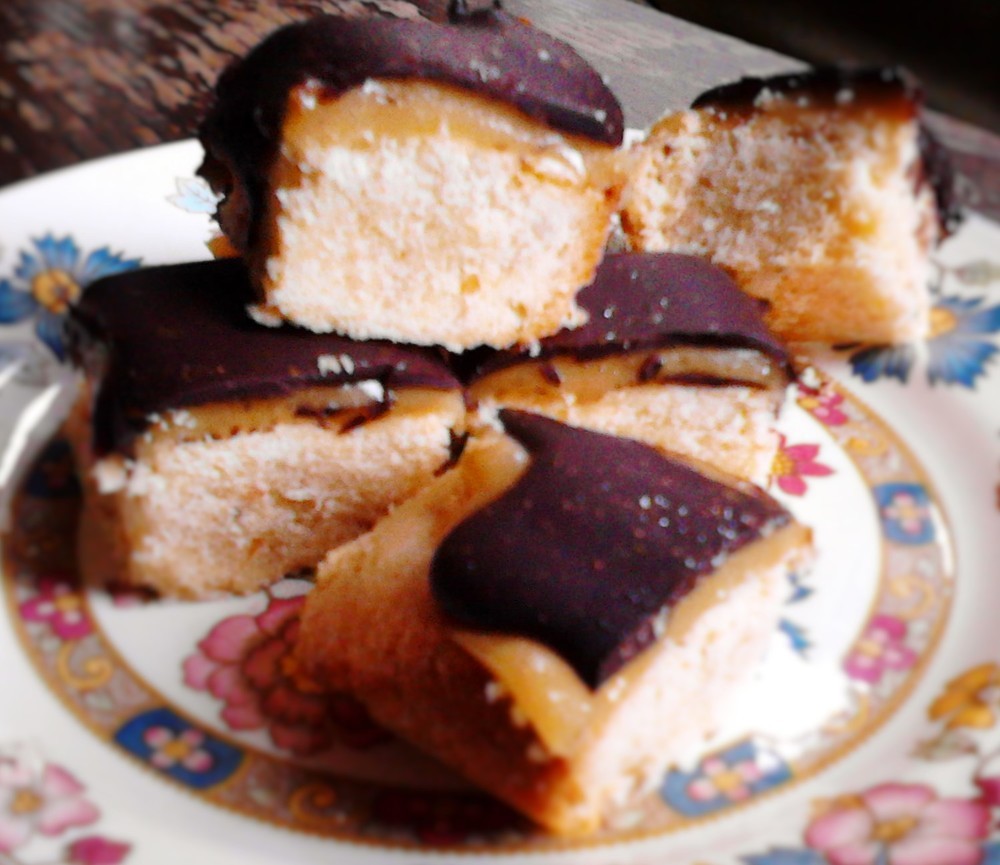 shortbread
125g/4oz butter
55g/2oz caster sugar, plus extra to finish
180g/6oz flour
Caramel
55g/2oz butter
55g/2oz demerara sugar
55g/2oz golden syrup
50g/1¾oz plain flour
½ level tsp ground ginger
75g cream cheese
Chocolate
Prep. Time → 15 min
Cook Time → 15 min
1. shortbread:
1.Heat the oven to 190C/375F/Gas 5.
2.Beat the butter and the sugar together until smooth.
3.Stir in the flour to get a smooth paste. Turn on to a work surface and gently roll out.
4.Cut into rounds or fingers and place onto a baking tray. Sprinkle with caster sugar and chill in
the fridge for 20 minutes.
5.Bake in the oven for 15-20 minutes, or until pale golden-brown. Set aside to cool on a wire rack.
2. Caramel:
combine all ingredients except the cream cheese in a pan and bring to the boil before allowing to cool.
stir in the cream cheese.
3. spread the caramel onto the shortbread and place in fridge.
4. Melt chocolate in a bowl over a pan of hot water and whilst still warm spread on top of the caramel.
5. Divide into small fingers or cubes.
desserts, baking, biscuits, shortbread, millionaires shortbread January 06, 2015 11:07
Author iqrecipes.co.uk
Share the recipe with your friends
No one has liked this recipe.
0 comments