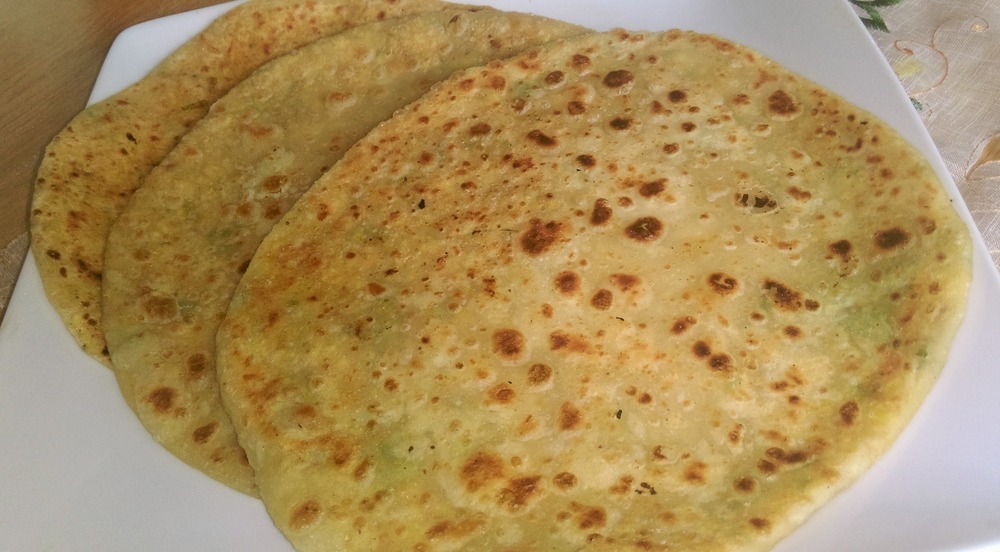 Ingredients
1/2 cup green moong dal with skin split green gram
1 1/2 cups whole wheat flour gehun ka atta
1/2 cup boiled peeled and mashed potatoes
1/2 cup finely chopped onions
2 tsp coarsely powdered coriander seeds dhania
1/4 cup finely chopped coriander dhania
1/2 tsp garam masala
1 tsp powdered sugar
1 tsp chilli powder
1/2 tsp dried mango powder amchur
2 tsp Oil
Salt to taste
whole wheat flour for rolling gehun ka atta
3 tsp Oil for cooking
Prep. Time → 60 min
Cook Time → 30 min
1. Take the moong dal and wash well.
Now soak the dal in a bowl for about 2 to 3 hours.
In a large bowl, add all the ingredients.
Start kneading the dough and add water as and when required
When the dough is kneaded. Divide into 12 portions and roll each portion into a ball.
Now roll out each ball into a circle.
On a non stick tava, add some oil. Once the oil is slightly heated, place the paratha and cook until They turn brown on both sides.
Serve hot.
starters, breakfast, dinner, paratha, recipe, moong dal February 26, 2019 05:51
Author https://hungryforever.com/recipe/...
Share the recipe with your friends
No one has liked this recipe.
0 comments