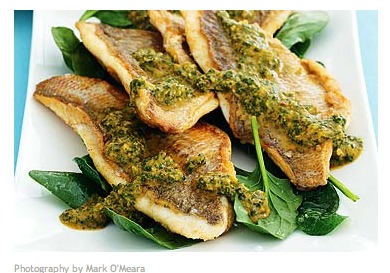 400g of cod fillet
1 tbs of olive oil
1 tsp of cumin
1 tsp of ground coriander
1 tsp of ground cardamom
1 tsp of cinnamon
2 cloves of garlic
2 tbs of chopped fresh coriander
2 tbs of fresh parsley, chopped
1 lemon
1. 1. Preheat the over to 180 degree celcius
2. 2. Pat the fish dry with a paper towel. Brush with half the oil, season with pepper and place in a baking dish.
3. 3. In a bowl, mix the remaining ingredients (using the zest and juice from the lemon) to a loose paste.
4. 4. Spread the paste evenly over the fish, seal the baking dish with foil and bake for 10-15 minutes or until cooked - the fish will flake easily.
July 06, 2011 01:47
Author guardian.co.uk
Share the recipe with your friends
No one has liked this recipe.
0 comments