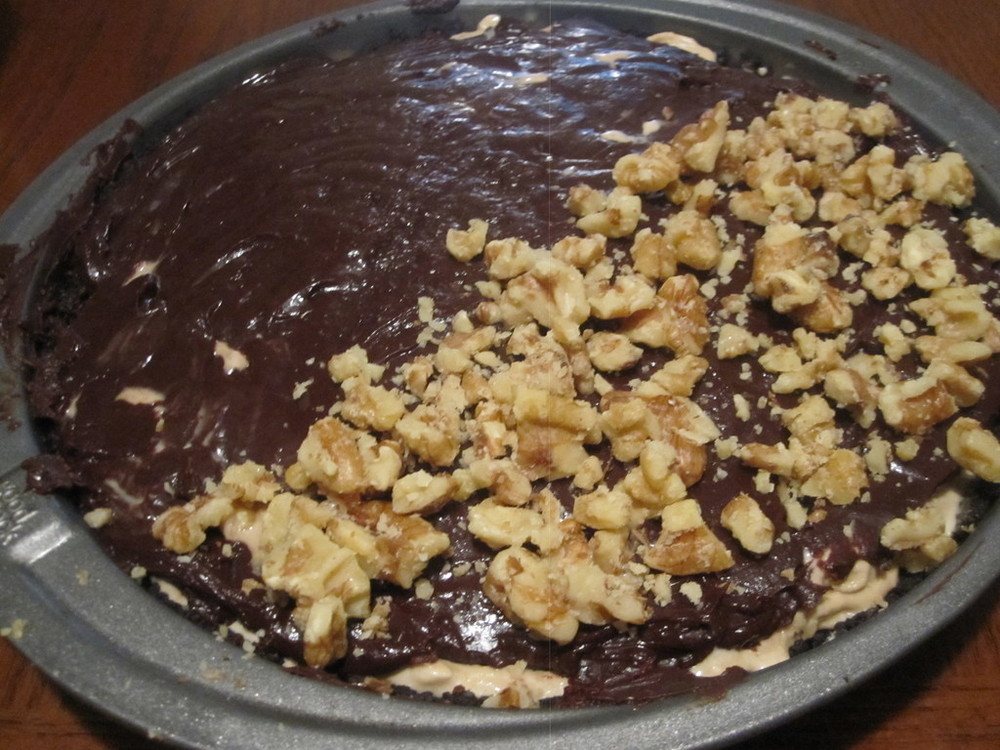 Ingredients
18 Oreos (or knockoff brand oreo cookies)
1/3 cup butter
1 carton (1/2 gallon or slightly smaller) coffee ice cream
2 squares unsweetened baking chocolate
1 small can evaporated milk
1/2 cup sugar
1 tablespoon butter
2/3 cup chopped walnuts (optional for topping)
1. Process Oreos in a food processor until finely chopped.
2. Melt butter and combine with chopped Oreos. Firmly press into the bottom and sides of a 9 inch pie plate or cake pan. Place in freezer for 10 minutes or so.
3. Remove ice cream from freezer and allow to warm until soft and easy to scoop. Fill Oreo pie crust with ice cream, smoothing the top so that it is flat. Return to freezer.
4. Melt unsweetened baking chocolate on stove top. Add sugar, 1 tablespoon butter, and evaporated milk. Bring to a slow boil; boil and stir until slightly thick. Remove from heat and put chocolate mix into a different bowl. Allow to cool, stirring occasionally.
5. Once chocolate has cooled, spread over ice cream in pie crust. Sprinkle top with broken up walnuts. Freeze until ready to enjoy.
desserts, chocolate, ice cream November 25, 2012 03:26
Share the recipe with your friends
No one has liked this recipe.
0 comments