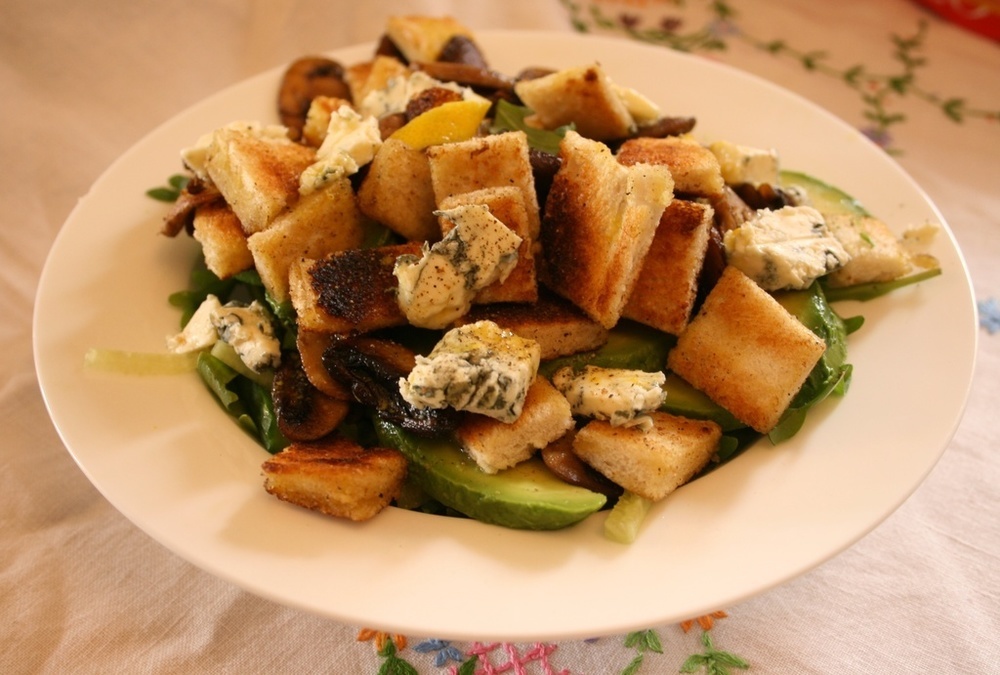 50g Rocket Leaves
1 Avocado
2 Spring Onions, finely sliced
6 Chestnut Mushrooms, sliced
2 thin slices of White Bread
100g Dolcelatte, cubed
4 tsp Olive Oil
The juice and rind of half a lemon
1 clove of Garlic, finely ground with salt
1 pinch of Ground Black Pepper
Half a teaspoon of mustard
Prep. Time → 10 min
Cook Time → 10 min
1. Arrange the rocket leaves into a serving bowl and sprinkle over the spring onions.
2. Toast both slices of bread and then remove the crusts and cut into small cubes.
3. Heat 2 tsp of the olive oil and then add the garlic and fry for a moment, before adding the mushrooms.
4. Whilst it fries, stone the avocado, scoop out each half and slice it diagonally to create slices about 1cm thick. Lay the slices over the rocket.
5. Once the mushrooms have browned, add the toast cubes to the pan and allow them to absorb the mushroom liquor.
6. Spoon the mushrooms and croutons over the salad and then sprinkle over the cubes of dolcelatte, allowing it to melt slightly.
7. Whisk together the juice and rind of the lemon with the remaining olive oil, salt, pepper and mustard.
8. Spoon over the dressing and add a final sprinkle of black pepper.
9. Delicious served with a frittata or omelette as a light meal.
side dishes, avocado, mushroom, salad, dolcelatte, croutons April 14, 2013 09:22
Author Sarah Holmes
Share the recipe with your friends
No one has liked this recipe.
0 comments