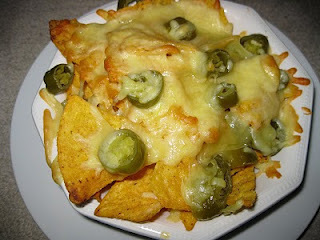 Tortilla chips - extra thick - 1 14-oz bag
Refried beans - 2-3 cups
Cheddar Cheese - 1/2 lb, grated, about 3 cups
Pickled jalapeno peppers - 4 peppers, sliced
Salsa
Guacamole
Sour cream
Cilantro, chopped (I'm so fckn American)
Prep. Time → 15 min
Cook Time → 15 min
1. Preheat the oven to 350°F. Arrange a layer of tortilla chips along the bottom of a wide, shallow baking pan. It will make things easier if this baking pan also can be used as a serving pan, such as the ceramic platter shown in the photo above. The layer of tortilla chips can be a couple chips thick.
2. Spread the refried beans over the chips (this is why you need extra thick chips, so they don't break when encountering the beans). Sprinkle the grated cheese over the top of chips and beans. Sprinkle slices of jalapeño peppers over the cheese. Bake in oven for 10 minutes, or until cheese is melted. 5 minutes in a convection oven.
3. Serve with dollops of salsa, sour cream and guacamole, with chopped cilantro sprinkled on top.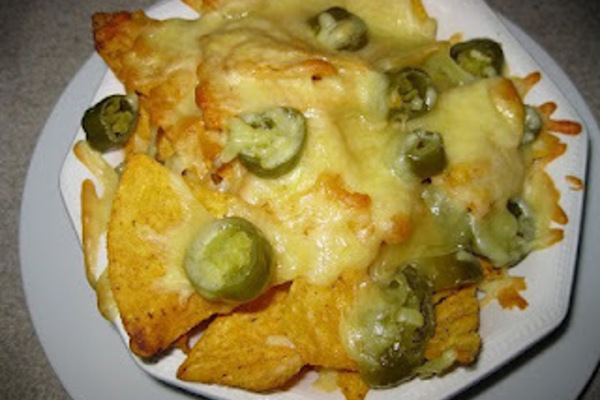 side dishes, nachos May 30, 2012 08:24
Author Mario De'Cristofano