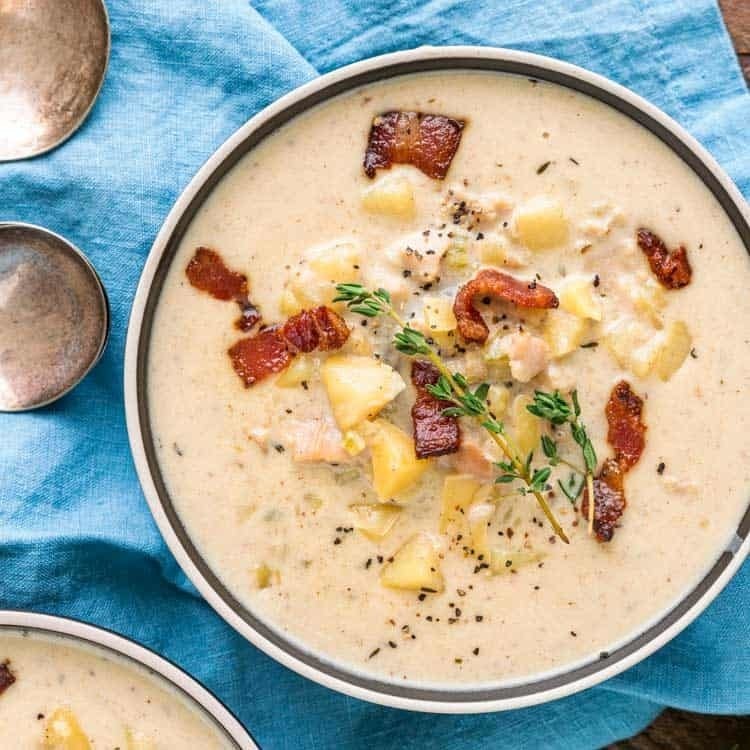 Ingredients
for 6 servings
4 slices of thick bacon, chopped
2 cups onion, diced
1 cup celery, diced
1 cup carrot, diced
1/3 cup flour
1 tsp pepper
1 tsp dried thyme
2 142g cans baby clams, with juice
1 1/2 cups chicken stock (I use Better Than Bouillion)
2 large or 3 med potatoes, peeled and cubed
2 cups heavy cream (coffee cream)
1 bay leaf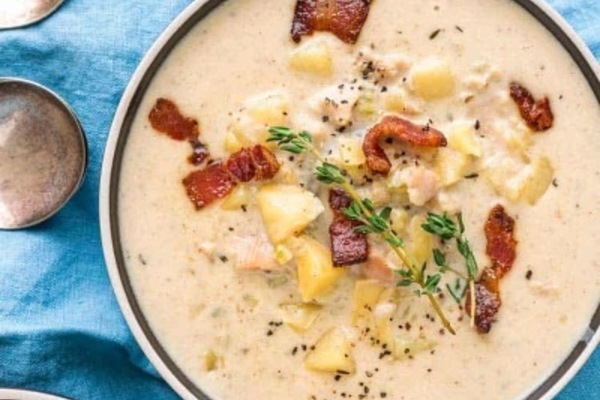 1. Place a fine mesh strainer over a med bowl and strain the 2 cans of baby clams (keep the juice). Mince up the baby clams if you want.
2. In a dutch oven fry the bacon over med-high heat until cooked. Using a slotted spoon remove the bacon into a small bowl and set aside.
3. Add onion to pan and sauce until softened and translucent, about 5 mins. Reduce heat to low and add carrots, celery and flour, stirring constantly 3 mins to avoid lumps.
4. Add black pepper, thyme, reserved clam juices, chicken stock, diced potatoes and bay leaf. Stir then cover and bring to a boil.
5. Reduce heat to simmer and let cook until potatoes are tender about 15 mins.
6. Remove bay leaf and add cream. Allow chowder to simmer for an additional 10-20 mins until soup has thickened to an appropriate consistency.
7. Add in reserved clam meat and cook for an additional 2 to 4 mins. Remove from heat.
8. Serve chowder in bowls topped with the bacon.
main courses October 29, 2020 22:38