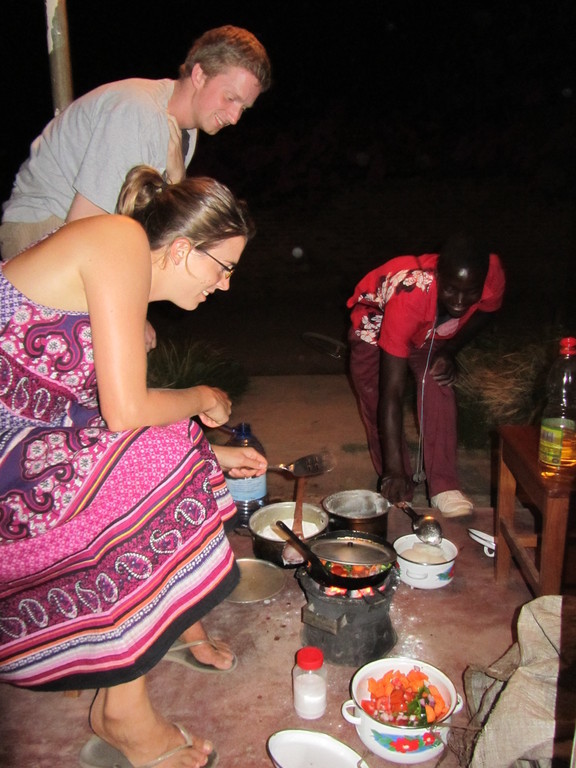 Ingredients
for 4 persons
0,5 L Water
250-300 g White Maizeflower
2 Green Paprikas
1 Carrot
4 Cherrytomatoes
4 Eggs
500 g Spinach
Prep. Time → 5 min
Cook Time → 20 min
1. In for something special? This might be it!
2. Start the preparation with cutting the green paprika, carrot and spinach. Mash the cherrytomatoes and beat the eggs.
3. Start the cooking by slowly heating the water in a cooking pot, but do not let it boil! When the water is starting to become fairly hot, start to add the maizeflower little by little. Try to prevent the formation of big pieces and break them at the side if they do. Try to prevent boiling also. In the meanwhile start to boil water in a different cooking pot. Keep stirring and adding the flower slowly until it is almost impossible to stir. Let it cool down for a half a minute, then make a big spoon wet with cold water and put the "maizeclay" on the plate. Let it cool down.
4. Start to fry the green paprikas and carrots together. Add the spinach to the boiling water and fry the eggs and cherrytomatoes also together. All in somewhat 5 minutes. Add every sidedish to the plate.
5. If you want to eat this the traditional African way, you have to use your hands. Take a piece from the nsima (maizeclay) and make a ball from it in the palm of your hand so it becomes sticky. Take one of the sidedishes and put them in your mouth.
6. You can add taste by using salt and pepper (also with the nsima). You can also use more tasty paprikas, such as the red one. You can add onion or a nice cooking oil. You may also add a sweet and sour-sauce with the paprikas and carrots and/or add the spinach here.
main courses, vegetarian, african, malawian, healthy April 10, 2011 09:56
Author Jeroen