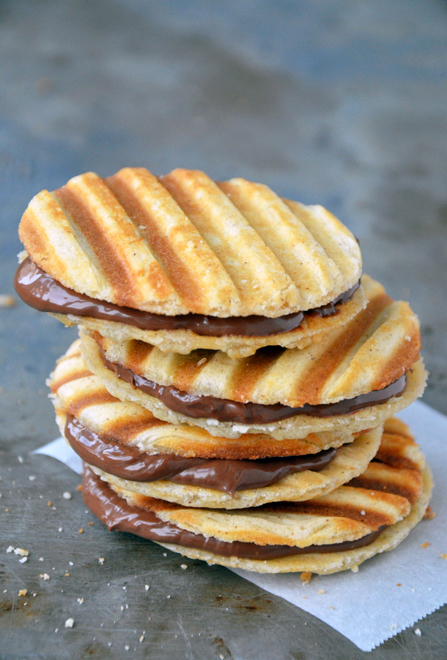 Ingredients
for 1 dozen sandwich cookies
1 cup heavy cream
1 1/2 teaspoons vanilla extract
1 1/2 cups powdered sugar
1 1/2 cups all-purpose flour
1/4 teaspoon ground cinnamon
1 tablespoon cornstarch
Nutella
Equipment: a panini press; a 2-inch circular cookie cutter
Prep. Time → 30 min
Cook Time → 2 min
1. In the bowl of a stand mixer fitted with the whisk attachment, whip the heavy cream with the vanilla extract on medium-high speed until mousse-like, about 5 minutes.
2. Sift together the powdered sugar, flour, cinnamon and cornstarch in a separate bowl then gently fold the dry mixture into the wet until it is fully incorporated. Cover the bowl with plastic wrap and let it sit at room temperature for 30 minutes.
3. Heat the panini press to medium-high heat (or 375°F).
4. Place a heaping tablespoon of batter in the center of the panini press, close the lid and cook the waffle for about 90 seconds.
5. Quickly remove the waffle from the press and use a circular 2-inch cookie cutter to cut out rounds. Set the waffle cone cookies aside to cool.
6. Once the waffle cone cookies have cooled, spread one side of a cookie with Nutella and top with a second waffle cone cookie to form sandwiches.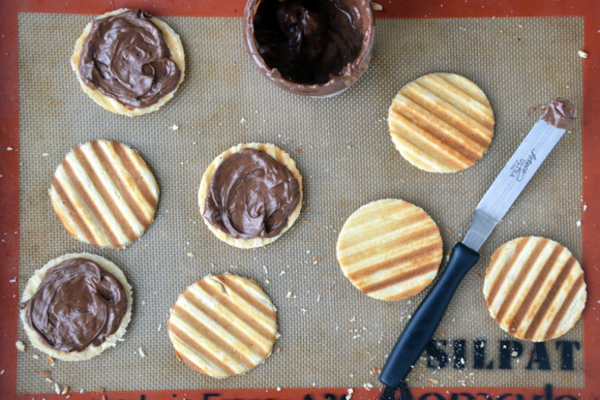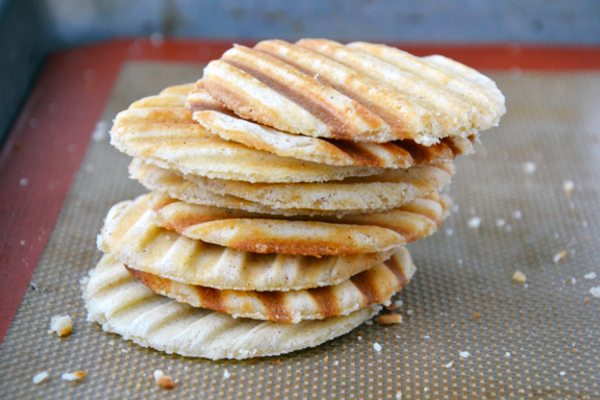 8. It's important to work quickly with the waffle cookies when they're hot off the panini press. They'll harden and break into pieces if you wait too long to cut out the rounds.
desserts, dessert, nutella April 30, 2012 00:30
Author justataste.com