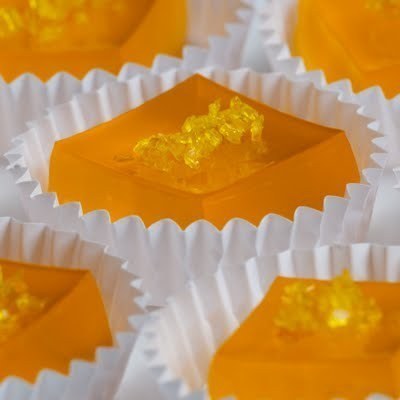 Ingredients
1 cup orangecello liqueur
1/2 cup citrus-flavored (or Citron) vodka
1/2 cup cointreau
2 envelopes Knox gelatin
For garnishment, 1 tsp chopped orange zest combined with 1 tbsp orange sugar, if desired
Directions
1. Pour the Orangecello into a medium saucepan and sprinkle with gelatin.
2. Allow the gelatin to soak for a minute or two.
3. Heat over very low heat until gelatin is dissolved, stirring constantly, about 5
minutes. (Take care to use very low heat to avoid overheating the alcohol.)
5. Add the couintreau and the vodka and stir into the gelatin mixture.
6. Pour mixture into loaf pan or molds.
7. Place in refrigerator to set (several hours or overnight).
8. To serve, cut into desired shapes. Garnish with the orange zest/sugar mixture if
desired.
9. Makes 18 to 24 jelly shots.
drinks, jello, jelly, orange, fruit November 09, 2011 22:42
Author jelly-shot-test-kitchen.blogsp...
Share the recipe with your friends
No one has liked this recipe.
0 comments