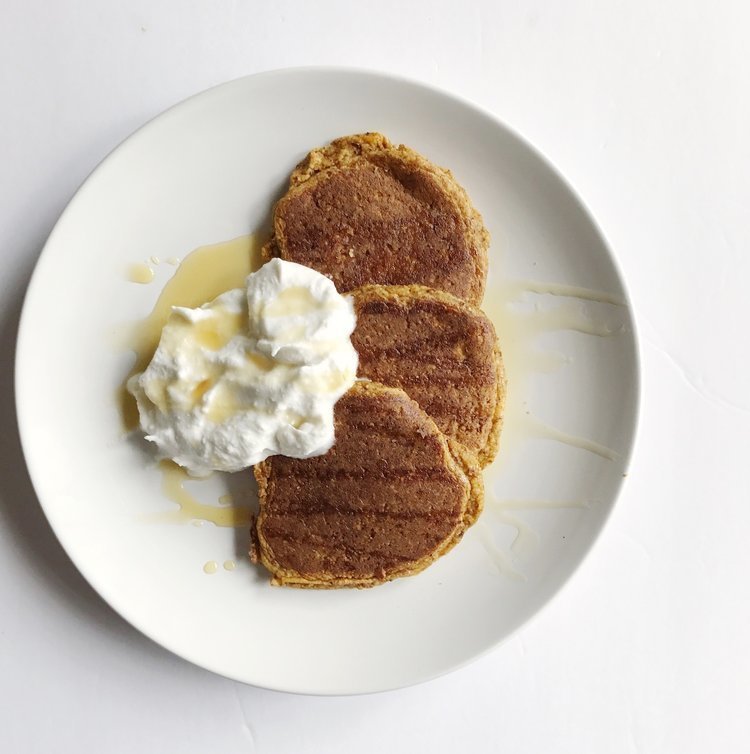 2 Eggs
½ cup pumpkin
½ cup unsweetened almond milk
1 teaspoon vanilla extract
1 ½ cups almond flour
½ teaspoon baking soda
½ teaspoon baking powder
1 teaspoon ground cinnamon
1 teaspoon pumpkin pie spice
Coconut oil
1 can coconut milk {refrigerate overnight}
1 tsp pure maple syrup
Prep. Time → 10 min
Cook Time → 20 min
1. Mix eggs, pumpkin, almond milk, and vanilla together.
2. In a separate bowl, mix almond flour, salt, baking powder, baking soda, pumpkin pie spice, and cinnamon.
3. Combine dry ingredients with wet ingredients.
4. Heat coconut oil in a large skillet over medium-low heat.
5. Drop slightly less than ¼ cup batter into pan and spread batter slightly for each pancake. Flip pancakes when bottoms have browned, about 3-4 minutes and cook another 1-2 minutes or until desired doneness.
6. Top with coconut whip, blueberries, cacao nibs, pure maple syrup or your other favorite toppings.
7. Directions for the coconut whip:
8. Remove coconut milk from the fridge. Flip over. Open can and pour out the coconut water. Scoop out the cream and place in a bowl.
10. Using a stand mixer or hand beaters, whip the coconut milk on medium-high for about 3 minutes, until soft peaks start to form.
11. Serve with pancakes, fruit, waffles, granola...the possibilities are endless.
desserts, easy healthy breakfast recipes, healthy breakfast recipes January 11, 2019 13:40
Share the recipe with your friends
No one has liked this recipe.
0 comments