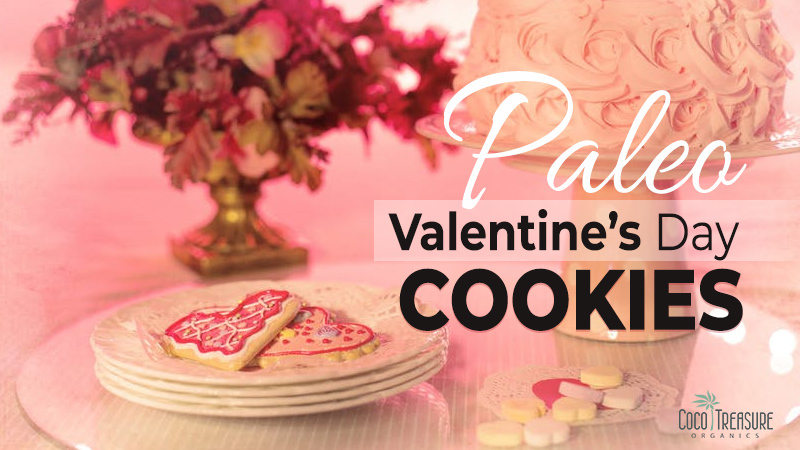 ½ teaspoon baking powder
1 piece egg
1 cup Coco Treasure Organics Coconut Nectar Syrup
1 cup Coco Treasure Organics Coconut Flour
1 cup unsalted butter softened
1 cup tapioca flour
2 cups almond flour
Prep. Time → 150 min
Cook Time → 10 min
1. In a large mixing bowl, sift together all the dry ingredients. Mix and then, set aside.
2. In another bowl, put the unsalted butter and the coconut nectar syrup. Slowly add the egg and blend using a mixer.
3. Add the dry ingredients and continue mixing until smooth.
4. Once you achieve a smooth consistency, place the dough in a food processor. Blend.
5. Cover the dough and chill for 2 hours.
6. Line a baking sheet with parchment paper.
7. Preheat the oven to 350 degrees Fahrenheit.
8. Roll out the dough on a flat surface to about ¼ inch. Sprinkle tapioca flour to prevent it from sticking.
9. Cut the cookie dough into heart shapes. You should be able to make at least 24 cookies. Re-roll the dough if needed.
10. Arrange them on the baking sheet, keeping at least an inch distance from one another.
11. Bake for 8 to 10 minutes until golden brown. Remove from the oven.
12. Keep on the sheet for another 5 minutes.
13. Transfer onto a cooling rack.
14. Package the cookies in fancy and colorful wraps.
15. Recipe Notes: These cookies are not only Paleo. They are also gluten-free! That only means these are the perfect choice for you. Now, if you still have some coconut flour left at home, feel free to experiment with it using these tasty Paleo recipes using coconut flour.
desserts, cookies, dessert, paleo cookies, recipes, valentines day cookies February 09, 2018 03:11
Author https://cocotreasure.com/recipes/pale...
Share the recipe with your friends
No one has liked this recipe.
0 comments