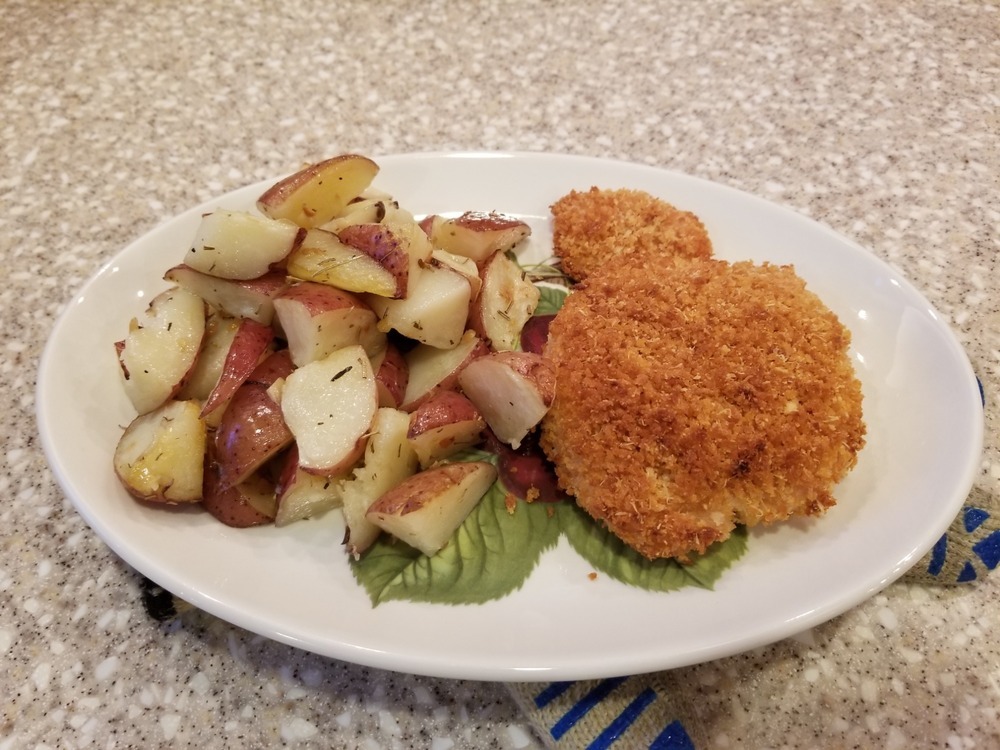 Ingredients
for 4 servings
1.5 C panko breadcrumbs
2 T olive oil
4 boneless, skinless chicken breast halves (about 4 oz each)
1 egg or 2 egg whites
2 t cornstarch
2 T lemon juice
0.5 C Parmesan cheese, grated
1 T fresh parsley, chopped or 1 t dry parsley flakes
1 t kosher salt
0.25 t ground black pepper
1 T fresh lemon zest or 1 t dried lemon zest
Prep. Time → 40 min
Cook Time → 20 min
1. Combine the oil and panko breadcrumbs in a frying pan. Toast the panko over medium-low heat, stirring frequently until it reaches a light golden brown color. Transfer toasted breadcrumbs to a large, shallow bowl and set aside to cool. If preparing in advance, transfer the toasted crumbs to an airtight container and store in a cool, dry place.
2. Clean, dry and trim chicken on a cutting board. Cover chicken with plastic wrap and gently pound each piece to an even 1/2" thick.
3. In a wide shallow dish, add eggs and gently beat with a fork. Add cornstarch and lemon juice and blend together until smooth.
4. In a large shallow bowl, combine the toasted panko breadcrumbs with the grated Parmesan cheese, parsley flakes and season with salt and pepper. Mix well.
5. Dip both sides of chicken into dipping mixture. Transfer the chicken to the crumb dish. Pat crumbs on both sides of chicken (it's okay if some crumbs fall off). Transfer chicken to a plate lined with wax or parchment paper. Add remaining crusting mixture to the top of the chicken and press down with a spoon. Allow chicken to rest at least 20 minutes to help set the crumbs or cover with wax/parchment paper and refrigerate overnight.
6. Preheat oven to 450°F. Lightly spray a wire rack with cooking spray. Set rack inside a cookie sheet lined with aluminum foil. Transfer chicken to the wire rack. Transfer cookie sheet with wire rack to the center oven rack. Bake 20 minutes or until chicken is cooked through. Serve with Roasted Potatoes with Garlic and Rosemary.

To prepare with roasted potatoes (see separate recipe), preheat the oven to 450°F. Place the cookie sheet with the potatoes on the lower off to one side and bake for 10 minutes. Then place the cookie sheet with the chicken on the center rack off to the opposite side and bake for 20 minutes. Halfway through baking the chicken, remove the potatoes from the oven and carefully toss them with a spatula. Return them to the oven for the final 10 minutes to finish them. The potatoes and chicken should be ready to serve at the same time.

To reheat leftovers, preheat oven to 450°F. Line a cookie sheet with foil and spray with cooking spray. Bake for 10 minutes or until heated through.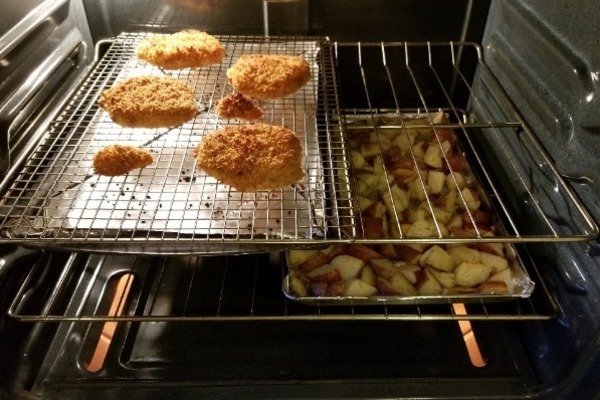 main courses, chicken, oven, poultry March 02, 2020 02:46
Author CuisineAtHome.com
Share the recipe with your friends
No one has liked this recipe.
0 comments