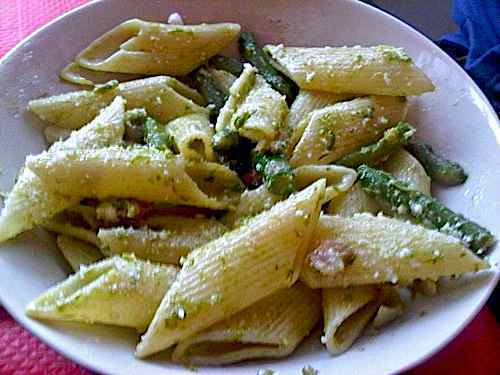 Ingredients
for 3-4 people
- 350 g di fusillata casareccia or pennoni (like mine in the picture) Pastificio dei Campi.
- 250 g wild asparagus.
- 100 g pancetta
- 1 onion
- 50 g grated pecorino
- Extra-virgin olive oil
- Salt and pepper
Prep. Time → 10 min
Cook Time → 10 min
1. Wash and chop the asparagus into small pieces, leaving the tips a bit longer. Slice the pancetta into strips and lightly cook them in a pan with a bit of olive oil.
2. Remove the pancetta and in the same pan, lightly brown the chopped onion, then add the asparagus. Taste for salt and pepper, add a few spoonfuls of water, and let cook for about 10 minutes.
3. Cook the pasta until al dente, then mix them in the pan with the asparagus and pancetta. Complete the dish with a sprinkling of grated pecorino, black pepper and serve!
4. For any other spring inspiration check here.
5. I hope you will enjoy!
main courses, pasta, pancetta, italian food, asparagus, penne, pastificio dei campi, pecorino cheese April 15, 2011 15:59
Author Linguina Dei Campi (pastificiodeicampi.it/the-...)