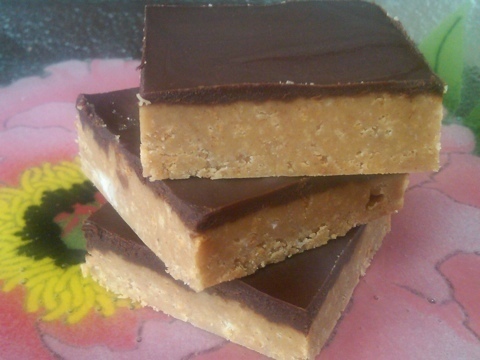 Ingredients
1/2 cup unsalted butter
1 3/4 cup powdered sugar
1 cup smooth peanut butter
3/4 cup graham cracker crumbs
1/4 cup unsalted butter
1/2 cup dark chocolate
1. Line an 8X8 inch square pan with foil, leaving enough to hang over the sides, then butter the foil.
2. In a medium sauce pan, melt the 1/2 cup of butter over low heat. Once melted, remove from heat and stir in the powdered sugar until smooth. Stir in the peanut butter and graham cracker crumbs until completely combined. Spread the peanut butter mixture into the prepared pan and smooth the top.
3. In a small sauce pan, melt the 1/4 cup unsalted butter completely. Remove from heat and add in the chocolate and continue stirring until smooth. Pour the melted chocolate over the peanut butter layer and smooth completely.
4. Chill for at least 30 minutes. Remove from pan and place on a cutting board and cut into 16 even pieces. Attempt to not eat more than 1.
desserts, bars February 25, 2016 01:05
Author a-life-from-scratch.com/
Share the recipe with your friends
No one has liked this recipe.
0 comments