Serves 4
2 racks of baby back / loin ribs
1 tbsp Marmite
1 tbsp English mustard
1½ tsp smoked paprika
2 tbsp tomato ketchup
2½ tbsp dark muscovado sugar
1. 1. Turn the racks curved-side down, and with the wider end facing you. Use a small knife to peel the edge of the translucent membrane away from the smaller end of the rack to form a tab you can grip on to. Pull this towards you, so the membrane comes away from the bones.
2. 2. Mix together the marinade ingredients and rub about half into the ribs well. Put in a shallow dish, cover and leave in the fridge for 4 hours, turning once or twice during this time to make sure the entire rack is coated.
3. 3. Pre-heat the oven to 150C. Cover the dish tightly with foil and cook for about 2½ hours until tender, basting once or twice during this time, and removing the foil for the last 15 minutes. The rack should end up floppy.
4. 4. Heat a barbecue or a griddle pan until hot, then brush the ribs with the rest of the marinade and cook until charred and caramelised. Serve immediately.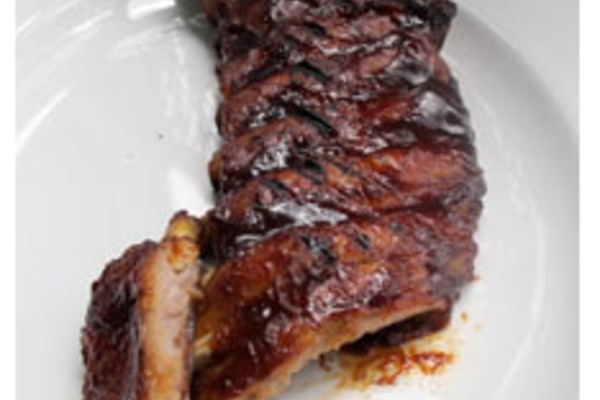 main courses July 06, 2011 01:32
Author guardian.co.uk/lifeandstyl...
Share the recipe with your friends
No one has liked this recipe.
0 comments