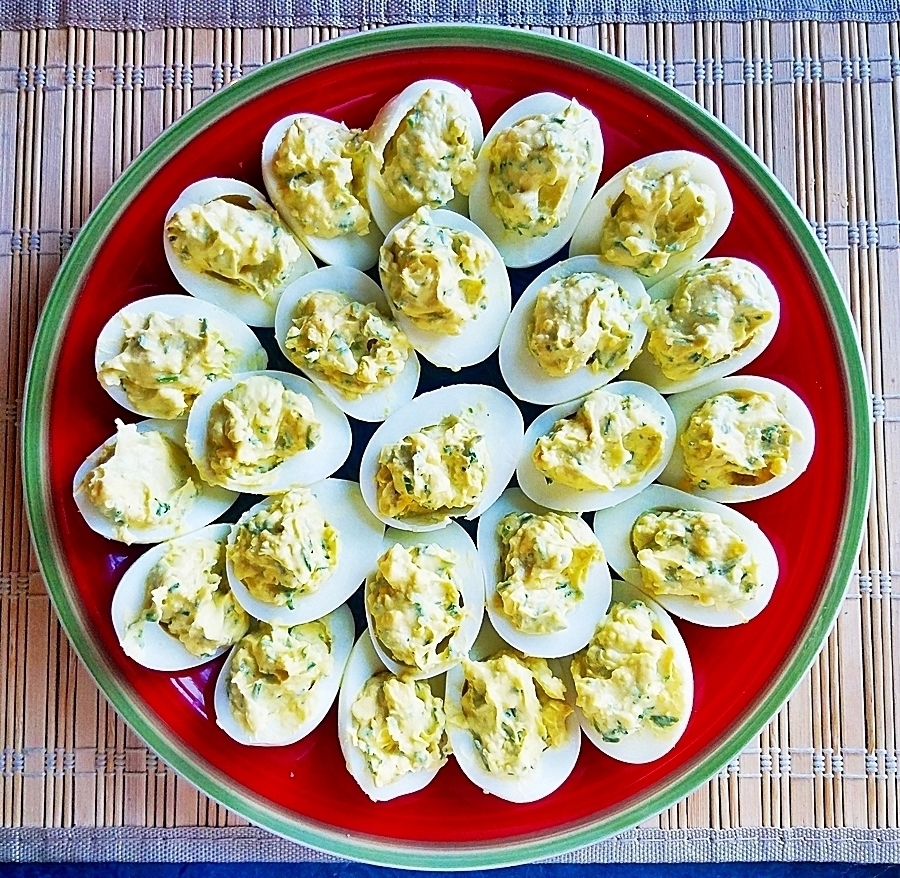 Ingredients
for 24 servings
12 Large Eggs
1/2 Cup Fresh Chives
3/4 Cup Mayonnaise
2 Tablespoons Brown Mustard
1/2 Teaspoon Black Pepper
Prep. Time → 15 min
Cook Time → 25 min
1. Place the eggs in a medium sized saucepan.  Cover with hot water.  Bring to a rolling boil over medium high heat.  Remove from heat and cover.  Let stand for 20 minutes.
2. While eggs are standing, wash and finely chop the chives.    Place in a medium sized bowl.
3. After 20 minutes, remove the eggs from hot water with a slotted spoon and place in a large bowl.  Cover with ice water and let stand for about 5 minutes.  At this point the eggs will be cooled.  Give several taps on the counter top all over and peel.  Shell should come off easily.
4. Cut eggs in half lengthwise with a sharp knife.
5. Remove yolks and add to the bowl with the chives.
6. With a fork, finely mash the eggs yolks and mix with the chives.
7. Add the mayo, brown mustard and pepper; mix well.
8. Arrange egg halves on a serving platter.
9. Place one teaspoon of the yolk mixture in each half.
10. Refrigerate before serving.  Keep cold.  Will keep in refrigerator up to four days.
side dishes, cleanfreshcuisine, cookout, delicious, easy, eggs, deviledeggs, summerrecipes, picnic May 31, 2017 11:18
Share the recipe with your friends
No one has liked this recipe.
0 comments