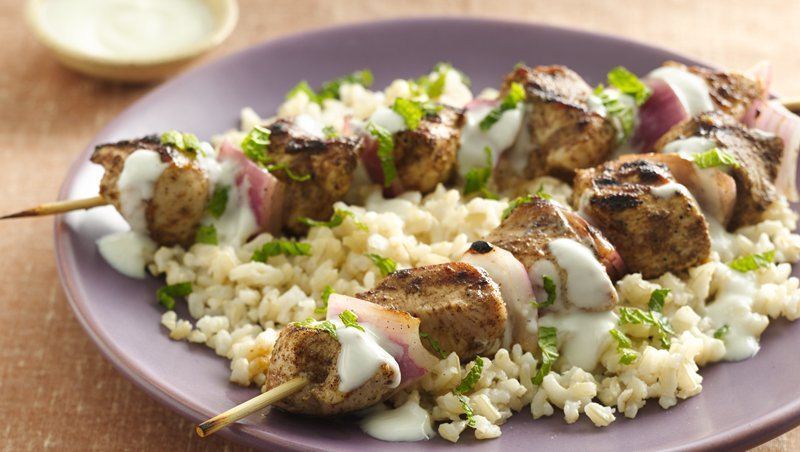 8 (8-inch) bamboo skewers
Honey Yogurt
1/2 cup plain fat-free yogurt
1 tablespoon honey
Kabobs
3 tablespoons lime juice
1 tablespoon olive oil
1-1/2 teaspoons salt
1 teaspoon ground cardamom
1 teaspoon ground cinnamon
1 teaspoon ground cumin
1/2 teaspoon ground ginger
1/4 teaspoon ground cloves
1 pound boneless skinless chicken breasts, cut into 1-inch pieces
1/2 red onion, cut into 1-inch pieces
Accompaniments
2 cups hot cooked brown rice
10 fresh mint leaves, chopped
Prep. Time → 25 min
Cook Time → 45 min
1. Soak skewers in water 20 minutes. Heat gas or charcoal grill.
2. In large bowl, beat half of the lime juice, the oil, salt, cardamom, cinnamon, cumin, ginger and cloves with whisk. Add chicken; toss to coat. On each skewer, alternately thread chicken and onion, starting and ending with chicken. There should be 5 or 6 pieces of chicken on each skewer.
3. Place kabobs on grill over medium-high heat. Cover grill; cook 3 to 4 minutes on each side or until chicken is no longer pink in center. On each of 4 serving plates, place 1/2 cup rice and 2 kabobs. Drizzle with remaining lime juice, then drizzle each plate with 2 tablespoons honey yogurt. Top with chopped mint.
main courses, grill, sausage, ethnic, kebabs June 18, 2016 10:25
Author bettycrocker.com/recipes/g...
Share the recipe with your friends
No one has liked this recipe.
0 comments