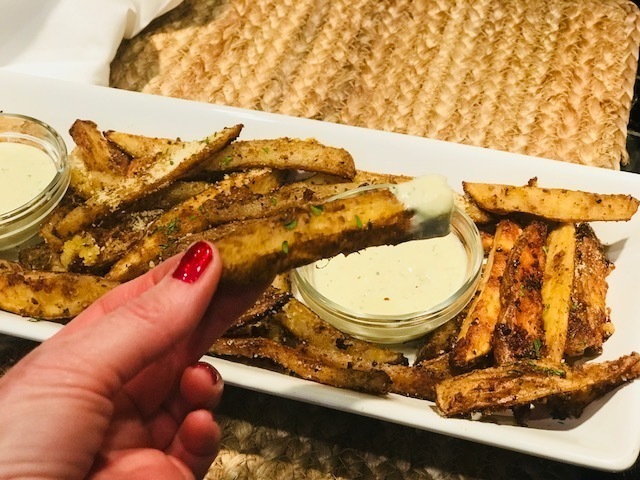 Video
Ingredients
for 4-6 people
INGREDIENTS
5 russet potatoes, cut like fries
1 tbsp olive oil
1/3 cup pesto sauce
1 teaspoon sea salt
1/2 teaspoon black pepper
1 teaspoon paprika
1 teaspoon Mrs. Dash garlic & herb
1 tablespoon Worcestershire sauce
CREAMY PESTO SAUCE:
1/3 cup buttermilk (or 1/3 cup milk mixed with 1 tsp vinegar)
1/3 cup sour cream
1/3 cup mayonnaise
1/3 cup pesto sauce
3/4 teaspoon sea salt
1/4 teaspoon black pepper
Prep. Time → 15 min
Cook Time → 35 min
1. Mix cut potatoes with all other ingredients in a large mixing bowl.
Transfer to a large baking sheet, (I used 11x17), and spray with cooking spray.
Bake at 425* for 20 minutes, mix fries around, and bake another 15 minutes, or until brown and crispy. Sprinkle with a light dusting of Parmesan cheese.
2. For the dressing mix all ingredients together in a mixing bowl until creamy.
Serve pesto fries with the sauce.
side dishes, french fries, healthy, organic, pesto, potatoes, recipe, russet, creamy pesto February 22, 2018 15:04
Share the recipe with your friends
No one has liked this recipe.
0 comments