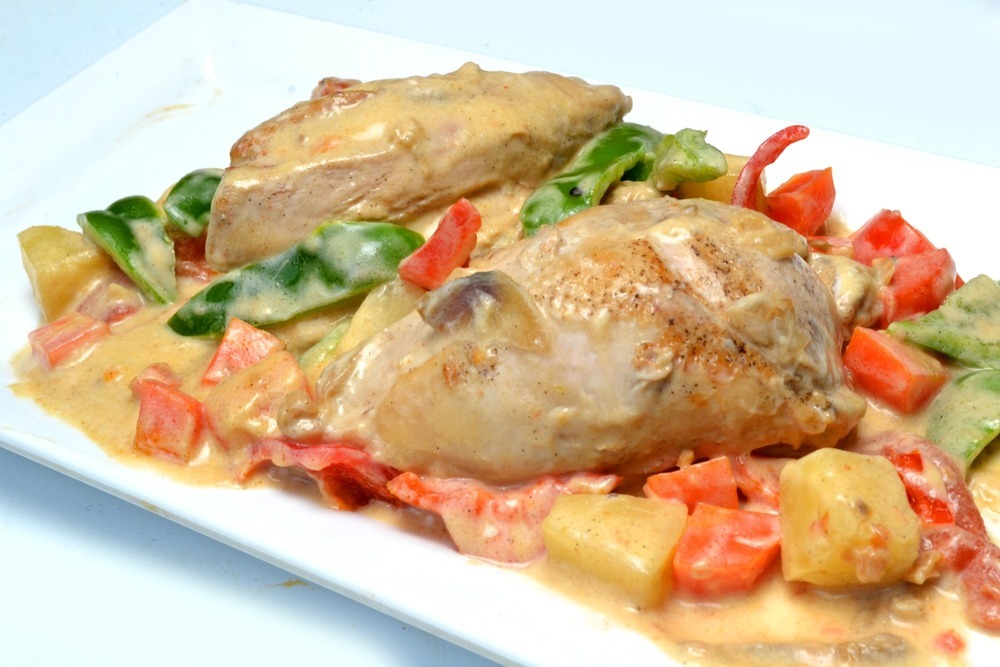 1 kg chicken thigh and breast, cut into serving portions
1 can (227 g) pineapple chunks ,drained (reserve syrup)
1 pack (4 g)WOW Sarap All- in- One Seasoning Granules
1 Tbsp JUFRAN Thai Fish Sauce
3 cloves garlic, crushed
1 small onion, sliced
1 tsp ginger strips
½ tsp UFC Whole Pepper
1 pc laurel leaf
1 medium red bell pepper, sliced
1 pack (45 g) UFC Ready Recipe Gata Mix, dissolved in 1 cup chicken broth or water
2 Tbsp evap milk
¼ cup sliced leeks
Golden Fiesta Corn/ Palm Oil
Directions
1. Marinate chicken in half of pineapple syrup, WOW Sarap Seasonings and Jufran Fish Sauce, overnight in the refrigerator. Brown chicken pieces in Golden Fiesta oil. Set aside.
2. Saute garlic, onion and ginger in 1 tablespoon of used Add chicken , pineapple chunks , UFC Pepper and laurel . Cover and simmer for 15 minutes .
3. Add bell pepper, UFC Gata Mix and remaining pineapple syrup . Simmer uncovered for 3-5 minutes, stirring continuously. Add leeks.
chicken recipe, piniyahang manok June 26, 2020 07:49
Author https://nutriasia.com/recipes/pininya...
Share the recipe with your friends
No one has liked this recipe.
0 comments